'Vile Behavior Thrives': Jake Tapper Takes Shot at Fox News Following Jesse Watters/Ivanka Flap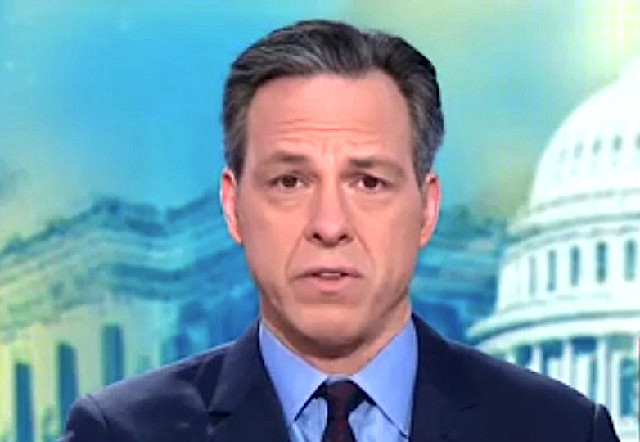 Twitter was abuzz with outrage this morning over a possible Ivanka Trump/penis joke made by Fox News' Jesse Watters during last night's broadcast of The Five. If you missed it, Watters said he really liked the way she was "speaking into that microphone" during a women's conference.
One of those slamming Fox News and Watters for the co-host's remarks was CNN anchor Jake Tapper, who sent out a tweet referencing the recent ouster of Fox News star Bill O'Reilly.
When a company sends the clear signal that women are basically sub-human, vile behavior thrives even after top offenders are fired.

— Jake Tapper (@jaketapper) April 26, 2017
And Tapper wasn't the only one at CNN to comment on the Watters flap:
I wonder how Fox would have reacted if an anchor at MSNBC said this https://t.co/G13lfczxN7

— Nathan McDermott (@natemcdermott) April 26, 2017
Great new start for Fox News… https://t.co/Hn13eGz1ou

— Jeremy Diamond (@JDiamond1) April 26, 2017
CNN has spent quite a bit of airtime recently on the upheaval and turmoil occurring over at Fox News. Besides devoting numerous segments and online pieces on the O'Reilly issue, current CNN anchor and former Fox News anchor Alisyn Camerota gave an in-depth interview to colleague Brian Stelter this past weekend where she revealed that she was sexually harassed by ex-Fox News chief Roger Ailes.
As for Watters, he has since tried to clarify his comment, claiming that what he meant is that she sounded "like a smooth jazz radio DJ."
[image via screengrab]
—
Follow Justin Baragona on Twitter: @justinbaragona
Have a tip we should know? tips@mediaite.com