Viral Video Wars: Is Cruz Elbowing His Wife's Face Worse Than Grabbing Fiorina's Hand?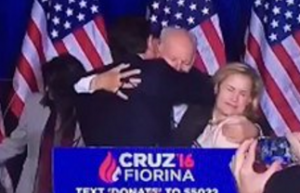 Ted Cruz's campaign may be over, but the viral videos the man starred in will live forever. Remember the time a mysterious something flew out of his mouth and landed on his lip and everyone talked about it for days? How about his daughter flicking him away from her? What about the clip of him saying, "Not gonna happen!"? (That one, in retrospect, is now pretty jarring, considering the context.)
Just two days ago, in what we now know to be the death rattle of the dying campaign, a horrifically discomforting video of Cruz and running mate Carly Fiorina attempting to clasp hands was all over the Internet. Now, we have this:
And poor Heidi Cruz takes the loss harder than anyone – in the face. pic.twitter.com/B9Fme3ck3Q

— Kate Bennett (@KateBennett_DC) May 4, 2016
It is no better at different speeds or angles.
We are all Heidi Cruz. pic.twitter.com/E2iW36Wfib

— Elizabeth Plank (@feministabulous) May 4, 2016
Heidi Cruz got elbowed hard in the face just after her husband announced that he was ending his bid for the highest office in the nation. It's harsh. It's definitely harsh.
Kasich's withdrawal from the race won't be official until he elbows Heidi Cruz in the face. The RNC is super strict about stuff like this.

— TBogg (@tbogg) May 4, 2016
"To quit my successful career to be double-punched in the face on national television by my failure husband"

-Heidi Cruz's senior yearbook

— Conor Rogers (@conorjrogers) May 4, 2016
Heidi Cruz getting elbowed in the face is pretty symbolic of how moderate conservatives must feel in this election

— Laura (@laurelisabeth52) May 4, 2016
Even today on the View, the ladies were much more interested in watching this clip than listening to Whoopi Goldberg address the racism she sees in Donald Trump's campaign.
So, between the hand-holding thing and the elbow-to-the-face thing, which viral Cruz video is the worst? (And by worst, I mean best.)
[image via screengrab]
For more, follow Lindsey on Twitter or Facebook.
Have a tip we should know? tips@mediaite.com