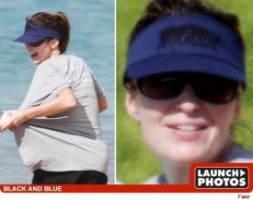 This is one of those stories you have to read twice because it's almost too ridiculous to believe. Apparently, whilst vacationing with her family in Hawaii this week Sarah Palin, having no other head accessories at her disposal, opted to wear what is now a year-old John McCain campaign visor to the beach. Except in order to remain "incognito" she blacked out McCain's name with marker (she blacked out his name with a marker…because there were no other hats in Hawaii?). TMZ, which is probably kicking itself these days for dropping the whole TMZDC idea, snapped the pictures.
So yes, even for Sarah Palin this is a bit strange (also, one imagines, both messy and smelly.) Politico's Playbook caught up with the former governor and this is what she had to say for herself:
Declaring that she 'was honored and proud to run with him,' the former Alaska governor pushed back hard last night against a report that she had disrespected Sen. McCain by blacking out his name on a sun visor she wore on the beach….Palin tells us she was just trying to 'be incognito' and shield her children and husband, Todd, from paparazzi: 'I am so sorry if people took this silly incident the wrong way. I adore John McCain, support him 100 percent and will do everything I can to support his reelection. As everyone knows, I was honored and proud to run with him. And Todd and I were with him in D.C. just a week ago. So much for trying to be incognito.'
Someone send the woman a hat, or something.
Have a tip we should know? tips@mediaite.com