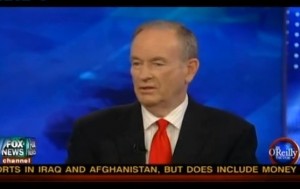 Last night, Bill O'Reilly had Time Magazine managing editor Rick Stengel on his show to discuss Time's decision to name Fed Chairman Ben Bernanke as their Person of the Year. After Stengel explained their decision to put Bernanke on the cover (over the Kardashian sisters, as O'Reilly suggested), the conversation turned to print as a medium. According to O'Reilly, Newsweek isn't going to survive.
What does it mean when cable's top news host is suggesting the demise of a magazine? Well, O'Reilly's comments will have little to no actual effect on Newsweek's end of the year P&L statement. But it can't be good for a major magazine when a populist (and popular) TV personality is openly questioning its viability. Public perception is a fragile thing (see GOP.com URL Shortener story), particularly for Newsweek, a title that has made a lot of news this year after redesigning and refocusing their editorial direction.
The conversation turned to the future of print media at the 2:00 mark of the video. A rough transcript of that portion follows:
O'Reilly: We all missed it. I missed it. Barney Frank missed it. Barney Frank! OK Now. Putting Ben Bernanke on the cover is a gutsy move, because people aren't going to buy the magazine because Ben Bernanke on the cover you know that.

Stengel: No I don't know that

O'Reilly: But if you put the Kardashian sisters on, you'd sell more.

Stengel: But I don't think that's what people are looking for us to do. They look for us to be serious about most serious topics.

O'Reilly: That's what I mean – its a gutsy. It is not a flashy moves. Its Ben Bernanke, its him in a beard. You guys. uh, want to throw a stat out. In the first nine months of 2005 Time magazine made $636 million in profit. Big cannon. First nine months of this year you made $167 million — big drop from 2005.

Stengel: Those numbers don't quite ring true.

O'Reilly: These numbers…from the Time Warner filing SEC

Stengel: It may have been Time Inc. the whole magazine group together.

O'Reilly: Are you guys going to survive?

Stengel: We're actually having a very good year. We'll be solidly profitable this year. We are gaining share from everyone else.

O'Reilly: Because I don't think Newsweek is going to survive.

Stengel: We are not only going to survive, we're going to thrive.

O'Reilly: First nine months of this year Newsweek lost $30 million. All right, if Newsweek goes out, and I think they will in 2010, you pick up some of their readers — isn't print over? Isn't the NY Times having trouble?

Stengel: Every different medium of journalism and media will survive. Print will survive. Online will survive. There are new tablets that are coming out that will be a new form of journalism. Those will all exist, the ratio's of how profitable they each are will change but they will still exist.

O'Reilly: You think you are in good financial shape?

Stengel: Oh we're in good financial shape…

O'Reilly: I heard a rumor that Ben Bernanke, after being named Time's Man of the Year, Person of the Year, injected like a trillion dollars into Time. Is that true?

Stengel: I can't comment on that.

O'Reilly: Because that would have been a smart move. Hey Ben, inject right here. All right, Ben Bernanke — I cannot argue with that, because I do believe that you are right, that if the financial community had collapsed totally, the whole economy would be in ""the grapes of wrath"" here. But I would rather read about the Kardashian sisters.

Stengel: Well don't get Time for that. But we will survive for putting Ben Bernanke on the cover.
Have a tip we should know? tips@mediaite.com