Vogue Profiles 'Mother in Chief' FLOTUS, the 'Greatest Political Communicator of Our Time'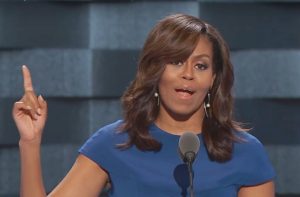 Just weeks ahead of a new woman taking her place as First Lady, Michelle Obama is gracing the cover of Vogue and her accompanying story was a month in the making. Obama's quotes themselves are insightful and interesting, but it's the way that profiler Jonathan Van Meter describes his month bopping around the White House and riding in Obama's caravan that will catch the attention of most readers. An inside look into the goings-on of any office is always preferable to something staged, opaque, and corny, so his descriptions of waiting in hallways for Obama to appear as security stands all around are captivating.
Her description of her role is also interesting, and not only because Melania Trump will soon be occupying it:
Everything we [First Ladies] do is by choice. I could have spent eight years doing anything, and at some level, it would have been fine. I could have focused on flowers. I could have focused on decor. I could have focused on entertainment. Because any First Lady, rightfully, gets to define her role. There's no legislative authority; you're not elected. And that's a wonderful gift of freedom.
Trump has already made it clear that her preferred platform will be one that has her standing up to online bullying. Obama was, of course, primarily focused on childhood obesity.
That isn't why Vogue labeled her the "Mother in Chief," though; she refers to herself that way and her husband, President Barack Obama, made it a point to mention her mothering nature in his email to Van Meter.
Read the entire thing here, including Van Meter's assessment that she's the "greatest political communicator of our time."
[image: screengrab]
Have a tip we should know? tips@mediaite.com