Voice of Russia Accuses Ukrainian PM of Being Mind-Controlled by Scientology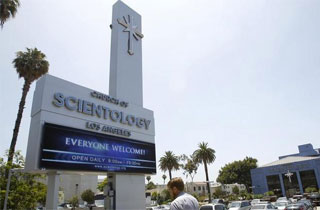 The psychological warfare between Ukraine and Russia went to a totally different level today, with the Kremlin-controlled Voice of Russia accusing the acting leader of the Ukraine of being "controlled" by Scientologists. It sounds like a South Park episode, but it is actually a Real Russian News Story, which you can really read on this real news source, for real.
In an NPR-ish interview with "Russian-American anti-cult activist" Professor Alexander Dvorkin, the station noted that Arseniy Yatsenyuk, the acting prime minister of Ukraine, had apparently paid for multiple Scientology courses when he was younger, "before his political career." Dvorkin describes auditing thusly:
The session is conducted with the help of a device which scientologists call electro-psychometer, which is sort of a primitive form of a lie detector. And people have to tell everything that they've done during their lives, everything that they are ashamed of, all their sexual history, all their most hidden thoughts and desires, whatever violations of the law that they could have done and everything that happened also to their relatives, to their friends, to their acquaintances and everything.
He then goes on to accuse the Scientologists of blackmailing Yatsenyuk with his secrets and turning him into their Scientology puppet. And because this is a Russian propaganda machine, the Scientologists work with the CIA:
It is no secret that scientology as of 1994 has been cooperating very closely with the CIA of the United States of America. The State Department of the USA lobbies the interests of scientology in all the countries of the world. And scientology, apparently, shares some of the information it gathers with the central intelligence agency. So, it means that, at least in Yatsenyuk's case, he could be controlled by the CIA.
Thankfully, the station had some shred of credibility, stopping short of accusing Yatsenyuk of being mind-controlled by Xenu, the Galactic Overlord that used thetans to control the minds of humanity. (At least the debunked story of Russian forces capturing a US drone was somewhat plausible.)
[Voice of Russia]
[Image via Mario Anzuoni / Reuters]
—
>> Follow Tina Nguyen (@Tina_Nguyen) on Twitter
Have a tip we should know? tips@mediaite.com