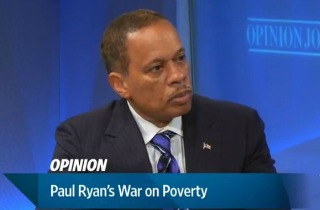 Fox News Channel contributor Juan Williams joined WSJ Live host and Wall Street Journal editorial board member Mary Kissel on Tuesday where he discussed his latest piece in the Journal dissecting Rep. Paul Ryan's (R-WI) push to address poverty issues and his meeting with members of the Congressional Black Caucus. Williams said that Ryan's comments on inner city poverty, which have been construed by some as racially insensitive, echo what President Barack Obama has said on the matter.

Williams began by noting that the poverty rate for minorities is well above the rate that it is for non-minorities. He said that some societal issues which lead to poverty, particularly centered on the breakdown of the family structure, are not being addressed.
"There is a reluctance with people to address this issue," Williams said. "Particularly, people who are invested, it seems to me, in the better outcomes."
"You mean civil rights organizations?" Kissel asked. Williams agreed.
RELATED: Maher Trips Up Guests with 'Racist' Paul Ryan Quote… Except Michelle Obama Said it
"I think they're locked in to the whole idea of increased spending and petitioning the government, as if simply adding dollars was going to solve the problem," Williams added.
He went on to note that Ryan "got in trouble" when he said there are cultural issues which perpetuate poverty in some communities. Kissel observed that this sentiment is one that Obama has cited before.
"The president has said that there is a cultural issue here," Williams concurred. "If the critics want to harp on the idea that, yes, most of the people in the country who are poor are white, live in the suburbs and the rural areas, fine. But you're ignoring the heart and soul of the matter, which is this tremendous and disproportionate increase in black and Hispanic poverty."
Watch the clip below via WSJ Live:
[Image via screengrab]
— —
>> Follow Noah Rothman (@NoahCRothman) on Twitter
Have a tip we should know? tips@mediaite.com