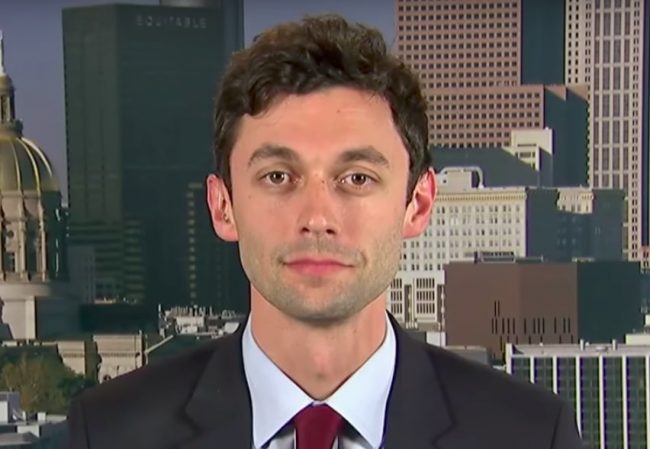 As Georgia's special election in the sixth congressional district prepares to wrap after 417 years of campaigning and tens of millions of dollars spent (that last part is actually true), fans of Democrat Jon Ossoff are rallying behind their man on Twitter with the hashtag #VoteYourOssoff.
Like most of the money behind him, the biggest proponents of the hashtag were out of state blue checks looking to tip the scales in his favor.
If Ossoff falls short tonight, the likes, retweets and engagement these generate will certainly ease the pain of their creators.
It starts today. Taking back the House. It starts in #GA06 with Jon @Ossoff#VoteYourOssoff
Every fight.
Every race.
Every state. pic.twitter.com/c87yS1MGhH

— Beau Willimon (@BeauWillimon) June 20, 2017
#VoteYourOssoff #flipthe6th https://t.co/vAE7tCQVdN

— Alyssa Milano (@Alyssa_Milano) June 20, 2017
Fellow Republicans on #TeamPatriot #GA06 #GA6. I appeal to you to #VoteYourOssoff. Country over party. Send a message to Putin. #FlipThr6th pic.twitter.com/79eyBbUFKS

— Louise Mensch (@LouiseMensch) June 20, 2017
— deray mckesson (@deray) June 20, 2017
Trump Draws: I am scared of Jon Ossoff#voteossoff #FlipThe6th #GA06 #voteyourossoff #Resist via @AynRandPaulRyan pic.twitter.com/gQXszE2a7W

— Scott Dworkin (@funder) June 20, 2017
VOTE for JON OSSOFF *TODAY* 6/20/17 (7am-7pm). Stay in line!#GA06 #Ossoff #FlipThe6th #GApol #VoteYourOssoff @MomsDemand pic.twitter.com/VWulUniLhR

— Shannon Watts (@shannonrwatts) June 20, 2017
Jon Ossoff represents a new generation of progressive leadership and a dynamic vision for the future. Let's go, @ossoff! #VoteYourOssoff

— Mike Levin (@MikeLevinCA) June 20, 2017
I BELIEVE THAT WE WILL WIN!
I BELIEVE THAT WE WILL WIN!
I BELIEVE THAT WE WILL WIN!#VoteYourOssoff #FlipThe6th

Vote for Jon @Ossoff today pic.twitter.com/uRlWv9qbRH

— Khary Penebaker (@kharyp) June 20, 2017
Friends in #GA06: it is CRUCIAL you go vote today. Send me a pic of your "I Voted" sticker + Ossoff button and I'll RT it!#VoteYourOssoff

— Charles Clymer?️‍? (@cmclymer) June 20, 2017
???????????oh John Ossoff PLEASE save #GA06 from this woman. #VoteYourOssoff #VOTE https://t.co/yIrcXPPC2j

— Debra Messing (@DebraMessing) June 19, 2017
Hope everyone in Georgia's 6th gets out and votes for Jon @Ossoff today! This is a **very** close race, every vote counts. #VoteYourOssoff

— Ryan J. Davis (@RyanNewYork) June 20, 2017
During first round of voting, celebrities invaded the district on behalf of Ossoff. The actor John Leguizamo urged voter to get woke for the first time candidate. Constituents in the Conservative district ultimately were not woke enough to put Ossoff over the top in the first round of voting — thus necessitating the dramatic showdown we have before us.
[image via screengrab]
Have a tip we should know? [email protected]