WaPo Analyst: Obamacare Creating 'Psychological Shift that Favors Republicans'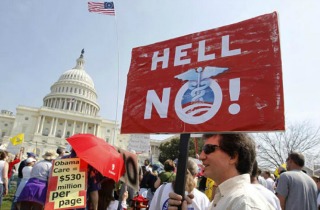 Republicans have not had many policy successes to campaign on since they lost control of the Congress in 2007. The GOP as a party has largely framed their arguments to the public in negative terms; they were more often against liberal policy proposals than for their own. To the extent that they have been in favor of much over the last six years, they have more often been Republican alternatives to Democratic policy initiatives.

But Republicans can thank Democrats for rehabilitating the GOP brand by tethering their party's image to the Affordable Care Act and its bungled roll-out. The debate over the ACA and its rocky implementation phase, emerging data suggests, has effected a change in how America views the role of government.
According to Gallup which has been surveying how Americans view the government's role in ensuring people have access to affordable health care coverage since 2000, more Americans than ever before do not believe this is the government's responsibility.
RELATED: New Revelations Transform Obamacare from Fiasco into Scandal
In 2006, 69 percent of Americans said that it is the government's responsibility "to make sure all Americans have health care coverage." Only 28 percent – an all-time low in that poll – said that providing Americans will health insurance was not the government's responsibility. More importantly, the trend indicated that more and more Americans were coming to the conclusion that providing access to health care was an important government function.
Fast forward to 2013 and that trend has apparently reversed. 56 percent of respondents have come around to the conclusion that it is not the government's responsibility to provide access to health insurance. 42 percent continue to say that this is a fundamental government responsibility.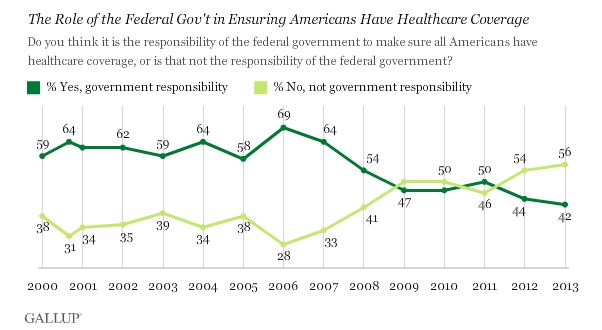 More concerning for supporters of the ACA is this survey's partisan breakdown. Today, 86 percent of Republicans, 55 percent of Independents, and 30 percent of Democrats say the federal government is "not responsible for ensuring all Americans have health care coverage."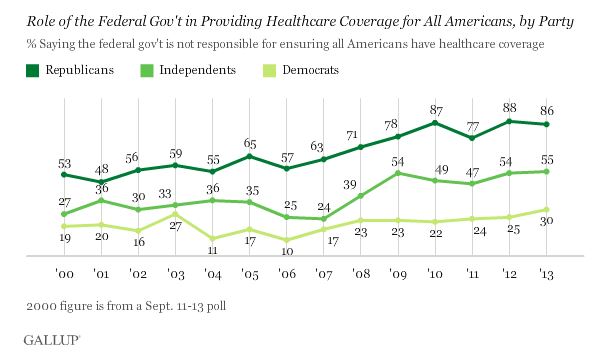 "This poll is better news for Republicans than just about any poll I've seen in a while. This poll represents a psychological shift that favors Republicans," wrote the Washington Post's Ed Rogers. "The president and his Democratic allies are getting a rude awakening to the realities of what government can and cannot do, and a timely reminder of the political consequences of overpromising and underdelivering."
He cautions that polling advantages shift, and the "half-life" of the political effect of problems associated with the ACA may be short lived. However, he says that the present debacle surrounding the ACA implementation has effectively neutralized the Democratic augment that the GOP represents "the party of no."
As Americans continue to deal with canceled plans and higher premiums and deductibles, their personal experiences and the horror stories they hear from family and friends reinforce their worst cynicism about Washington's ability to deliver and all politicians' promises. He who promises the most doesn't necessarily have the advantage — at least for the time being.
Rogers concludes by noting that a Washington Post/ABC News poll (confirmed earlier by a National Journal survey released the same day) indicates that voters are less inclined to vote for a candidate that supports the ACA.
"The political poison of Obamacare is spreading down the Democratic ballot," Rogers concluded. " I've said it before and I'll say it again: In politics, bad gets worse."
[Photo via AP]
— —
> >Follow Noah Rothman (@NoahCRothman) on Twitter
Have a tip we should know? [email protected]