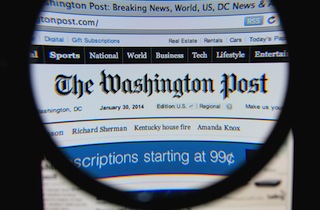 The "Snowden Revelations: Big Deal or Big Nothing?!?!?!" opera got another act this weekend, when Barton Gellman, who has been working with NSA leaker Edward Snowden in addition to Glenn Greenwald, published an exposé about the scores of innocent American citizens whose correspondences are intercepted when the NSA goes after a foreign national's communications.

Here, read a quote:
Nine of 10 account holders found in a large cache of intercepted conversations, which former NSA contractor Edward Snowden provided in full to The Post, were not the intended surveillance targets but were caught in a net the agency had cast for somebody else.
That caught the attention of Stewart Baker, of the Volokh Conspiracy, a blog recently acquired by the Post. "The story is built around the implied claim that 90% of NSA intercept data is about innocent people," Baker said. "I think the statistic is a phony."
Baker performed a hypothetical wherein his email is tracked by the NSA, including hundreds of people he interacts with only once for a sentence or two, or whose emails he ignores all together; despite the fact that most of these correspondences would be incidental, it would be represented as "99% of communications obtained belonged to innocent people." In short, Baker thinks Gellman significantly discounted the value of correspondences to juice the stats:
Maybe the Post is performing some far more sophisticated calculation, and they didn't bother to explain it, despite its prominence in the story. If not, though, the inherent bias in the measure is such that it demands an acknowledgement . (After all, it allows you to say "half of all account holders in the database weren't the target" if the agency stores a single message sent to the target.) This is something that any halfway sentient editor should have recognized.

Which raises this question: I've heard of newspapers chasing stories that are "too good to check." Does the Post think that Gellman's are too good to edit?
Gellman, whose team was awarded the Pulitzer along with Greenwald for it NSA reporting, spent a large portion of his article detailing the extensive, personal, and often vulnerable nature of the correspondences that were not only originally intercepted by the NSA but also stored for indefinite periods, without connection to a terrorist act, and with no oversight.
[h/t Washington Post]
[Image via Gil C / Shutterstock.com]
——
>> Follow Evan McMurry (@evanmcmurry) on Twitter
Have a tip we should know? [email protected]