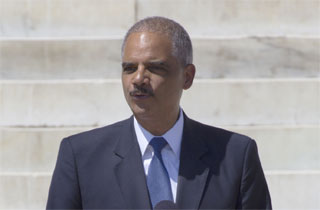 Let's play "Which Famous Person Should Fix The NFL Today?" A few weeks ago, Jonathan Capeheart of the Washington Post won with his suggestion to nominate former Secretary of State Condoleeza Rice as NFL commissioner, and today — oh! — we already have a winner: Mark Maske nominating outgoing Attorney General Eric Holder to do something to fix football!
In Maske's vision of a perfect world, Holder would be "in charge of all off-field player discipline," leading the league into a glorious future in regards to player scandals. The title wouldn't matter, but "Holder would need to have a major say, if not the major say, in determining what the NFL does next to address its issues with player misconduct in the wake of the Ray Rice, Adrian Peterson and Greg Hardy cases," he argued.
It's not too far-fetched of an idea, seeing as Holder's actually worked with the NFL before in a similar capacity (he led the 2007 investigation into Michael Vick's dogfighting operation). "Given the current lack of public trust in Goodell overseeing player discipline, stepping aside in that area and putting Holder in charge would make sense and might be an avenue by which the NFL could address its problems to the satisfaction of its current critics," Maske argued.
Maske's NFL sources think it will never happen — one called it "possible but unlikely" — though no one knows exactly what Holder's post-Cabinet plans are.
Nevertheless, he wins this weeks's round of "Which Famous Person Should Fix The NFL Today?" due to his stunning ability to graft a hot news item onto another news item. Congratulations!
[The Washington Post]
[Image via spirit of america / Shutterstock.com]
— —
>> Follow Tina Nguyen (@Tina_Nguyen) on Twitter
Have a tip we should know? tips@mediaite.com