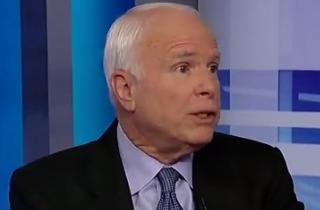 Yesterday John McCain insisted that he did not flip-flop on support for the deal to release Bowe Bergdahl, and anyone who says he did is a "lying" "Obamaphile." Well, Washington Post fact-checker Glenn Kessler looked into McCain's denial and concluded that yes, he did, in fact, flip-flop.
Kessler goes through all the facts of the case; McCain was aware of who was being considered for the prisoner exchange, he said previously he was "inclined to support" a deal to trade five Taliban commanders for Bergdahl, and his given reason for not flip-flopping is that he brought up "details" back then that would have to be decided on. Kessler writes, "His previous dispute had been on releasing the men as a confidence-building measure, not on the character of the men themselves. He certainly did not say he would have objected to these men being part of the prisoner exchange."
Kessler also calls McCain out for acting like the trade was a "surprise" when it's clear he was aware of the facts ahead of time, and concludes that he flip-flopped.
McCain may have thought he left himself an out when he said his support was dependent on the details. But then he can't object to the most important detail — the identity of the prisoners — that was known at the time he indicated his support. McCain earns an upside-down Pinocchio, constituting a flip-flop.
Jake Tapper highlighted this on CNN earlier this week. You can watch that video below:
]
[image via screengrab]
— —
Follow Josh Feldman on Twitter: @feldmaniac
Have a tip we should know? tips@mediaite.com
Josh Feldman - Senior Editor