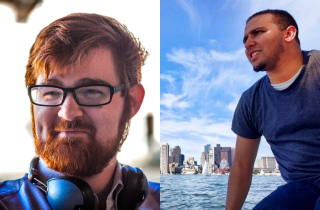 Charles Johnson, the fire-spitting conservative blogger who's made a mess of multiple national news stories this year, finally clawed some mainstream media coverage after revealing personal information about the victim at the center of the now-retracted Rolling Stone rape article. (He got the wrong "Jackie," which is Johnson's trademark.)
The Washington Post profiled Johnson Tuesday morning, in the rebel-without-a-clue tone for which Johnson clearly strives. The post describes him as an "incendiary scribe," "part troll, part provocateur, part bully for profit, and fully independent…[adopting] the glower of an anti-establishment rabble-rouser." Johnson has been banned from Twitter at least twice for posting personal information about news subjects, and his threats against "Jackie" this weekend were almost universally considered to be harassment.
Washington Post reporter Wesley Lowery, who's had run-ins in with Johnson over the protests in Ferguson (Johnson published a parking ticket of Lowery's, which displayed his parents' address), was not happy about the profile, which appeared to aggrandize the attention-hungry Johnson:
Nope RT @washingtonpost: Meet the blogger who says he outed Rolling Stone's "Jackie"

— Wesley Lowery (@WesleyLowery) December 9, 2014
Profiling a mentally unstable person who unethically harasses and stalks people for fun/attention seems counterproductive.

— Wesley Lowery (@WesleyLowery) December 9, 2014
Lowery then got into it with Daily Caller editor Matt Lewis, who also denounced the WaPo profile. Last week the Caller published a bizarre piece on Lowery's race, and Lowery wanted to see if Lewis would call out his own publication as he had his. It didn't end well:
@WesleyLowery You're right. I shouldn't have criticized Charles Johnson or called out my side. It was a thankless task. I learned my lesson.

— Matt Lewis (@mattklewis) December 9, 2014
Area columnist writes hypocritical (if fundamentally correct) column. Gets mild pushback. Vows to never tell the truth again

— Wesley Lowery (@WesleyLowery) December 9, 2014
@WesleyLowery Again, you're right. Won't happen again. Tribalism wins the day. You won't see me criticizing the right again for a long time.

— Matt Lewis (@mattklewis) December 9, 2014
You know who's probably happy about all this mayhem? Chuck Johnson.
[Image via screengrab]
——
>> Follow Evan McMurry (@evanmcmurry) on Twitter
Have a tip we should know? tips@mediaite.com