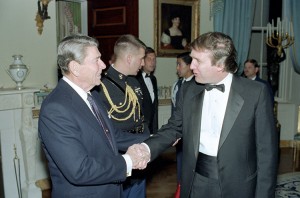 Presumptive Republican presidential nominee Donald Trump has often been compared with the late President Ronald Reagan, but a recent Washington Post story goes to great lengths to try and distance the real estate mogul from the mythical Republican icon. The piece, entitled "Reagan White House viewed Trump and his 'large ego' warily," features a deep spelunking into the Ronald Reagan Presidential Library Archives that doesn't really sustain its own headline.
The "large ego" comment came from a White House staffer, but he appears to have viewed this as an asset in persuading Trump to skip a Democratic fundraiser, not an attribute to be "wary" of:
White House Political Director Frank J. Donatelli alerted Chief of Staff Howard Baker about the story. "It would be most helpful if you would place a phone call to Don Trump today," Donatelli wrote in a memo. "He has a large ego and would be responsive to your call." He underlined the word "large" before ego.

Donatelli told Baker, the former Senate majority leader, to make the case to the New York developer that Republican economic policies had made possible the previous 60 months of growth. But the real message of the call to Trump was this: "If he chooses to raise Democratic funds, do it for the individual candidates and not for the entire party." Ultimately, Trump decided not to chair the event.
The piece goes on to cherry-pick seven Trump-related entries from the Reagan archives, including five invitations from Trump that were either declined or ignored, one of which featured a handwritten reply from then-First Lady Nancy Reagan:
In 1986, Trump sent a letter to Nancy Reagan inviting her to stay at his Mar-a-Lago property when she came down for the American Red Cross Ball at the Breakers in Palm Beach. (The staff in the East Wing had no idea what he was talking about; she had not been invited to the ball.)

"Security surrounding the estate is considered the very best protection available," The Donald boasted to the first lady. "You may also know that Mar-a-Lago was originally designed … as the 'southern White House.'"

Mrs. Reagan drafted by hand a thanks-but-no-thanks reply that included the line, "I am familiar with Mar-a-Lago." Then she crossed it out.
Now, I have no earthly idea if Ronald Reagan liked Donald Trump, but I do know that the percentage of invitations that are declined or ignored by the White House is somewhere around the purity of a bar of Ivory soap, and most of those don't rate a handwritten reply. It also seems like, relatively speaking, Donald Trump managed to get himself photographed with Reagan almost as often as his invitations got shot down:
[imageviewer id=2564]
This sort of piece seems designed either to reflexively bash Trump, or more likely, to "protect" Ronald Reagan from comparisons to the man who has aptly taken the reins of his party and legacy.
This is an opinion piece. The views expressed in this article are those of just the author.