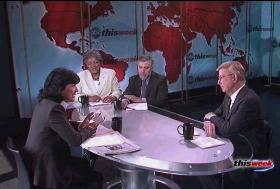 "With pomp and panoply befitting a visit from a foreign dignitary, ABC raised the curtain on its newly revamped This Week," begins Tom Shales' Washington Post review of Christiane Amanpour's first This Week show, signaling the irrational column to come. Considering there was a noticeable lack of "pomp and panoply," it's a strange way to start.
It only gets more offensive from there, in the latest of Shales' attacks on the former CNNer.
The overall reviews for the debuts were mixed at best, including from Glynnis MacNicol here, who said it was "difficult to find anything else about the show that was different."
But Shales takes it to the next level of criticism:
Even so, the adept and likable Tapper stood a good chance of steering "This Week" into the kind of dominance that "Meet the Press" has so long enjoyed. And it didn't require any globe-trotting Fancy-Pants to do it
Really? "Globe-trotting Fancy-Pants"? Tom, why don't you just write about the fact that her mom is European and her dad is Iranian, and that she grew up in Tehran? Actually, he kind of did.
In parsing the new language before the "In Memoriam" segment of This Week, Shales criticized Amanpour for changing the remembrance to "all of those who died in war" before then specifically mentioning American military names. "Did she mean to suggest that our mourning extend to members of the Taliban?" asked Shales, before he scampers away from that ridiculous question to criticize the amount of "nice" pictures she showed at the end of the show.
When Amanpour was announced as the new This Week anchor, there was legitimate concern about whether her skillset fit with the D.C.-focused show. This Shales review is part two of his harsh attacks of her, at the time saying ABC might be "forced to withdraw Amanpour's name and come up with another "nominee" for the job." (This drew a sharp rebuke from ABC – we'll see if they have anything to say this time.) And Shales has a long history of over-the-top "criticism" aimed at women.
But suggesting this "Fancy-Pants" anchor wants viewers to mourn Taliban deaths, and seeing "pomp and panoply" where there is none, thoroughly undercuts the sharp critique.
—–
» Follow Steve Krakauer on Twitter
Have a tip we should know? tips@mediaite.com