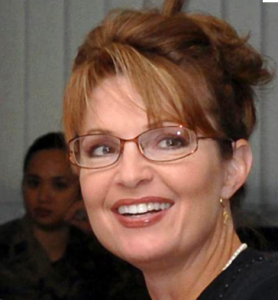 Sarah Palin is apparently unhappy with Michael Joseph Gross, the author of the much-talked-about Vanity Fair piece.  But when she appeared to refer to him as "impotent and limp and gutless" in an interview on Sean Hannity's radio show, was she also doing a little gay-baiting?
That's the theory at the gay online magazine The Advocate. The editors at Advocate.com argued the "emasculating" terms used by Palin were "code words" to slam the openly gay Gross, who is an Advocate contributor.
Palin didn't mention Gross by name while talking Thursday on Sean Hannity's WABC radio show, but she seemed to be referring to the article — and pointedly used emasculating words that have long been used as euphemisms for homosexuality — when she called reporters who publish "rumors" about her "impotent," "limp," and "gutless."
I've heard a lot of "code words" questioning the masculinity of gay men, but "limp" and "impotent" were new ones to me. The folks at the gay Republican group GOPoud seem to agree, issuing a statement to Joe Jervis at JoeMyGod taking-on the Advocate.
It is The Advocate, not Sarah Palin, who is guilty of 'gay-baiting.' I don't think most people associate the words 'impotent,' 'limp,' or 'gutless' with being gay – I know I certainly don't. If the folks at The Advocate think these words are euphemisms for being gay or lesbian then I think that speaks volumes about their own internalized homophobia. Governor Palin was absolutely right to use the words she chose to describe the pathetic hatchet job penned by Mr. Gross.
GOProud, which is hosting Ann Coulter for a "Homocon" event in New York City, definitely knows how to get some attention and the Advocate appears to be a perfect foil. As Chris Geidner of the Washington, D.C.-based LGBT magazine MetroWeekly says, "[r]egardless of who's right, score one for GOProud for finding a way to get people talking on a Friday before a long weekend about words and what they mean."
Have a tip we should know? tips@mediaite.com