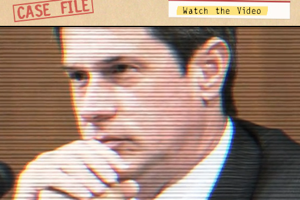 It took long enough, but Democrats are finally capitalizing on the fact that Louisiana Senator David Vitter is mostly known for trysts with prostitutes and employing a domestic abuser (to be fair, he sometimes legitimizes the birthers, too). Following up on "SeriousSins.com," the Democrats have now released a suspense thriller called "Forgotten Crimes," also about Vitter's extramarital misadventures.
With the tag line "the law may forget… we don't," the ad begins by naming the episode, "Lawmaker, Lawbreaker," indicating that Forgotten Crimes will be a series (that looks like it could resurface as weekend programming on USA). Senator Vitter must be thrilled! Using a similar but much less lighthearted aesthetic to the Republican ads in Illinois against "mob lawyer" and Democratic Senate candidate Alexi Giannoulias, Forgotten Crimes details the various transgressions Vitter was caught committing in 2007.
Unlike the "mob lawyer" ads, however, Forgotten Crimes is a full five-minute Unsolved Mysteries knockoff, complete with crime dramatizations (no, not those crimes), anonymous expert commentary from sources like "Navy Officer" and "Registered Nurse," and a narrator whose tone uncannily resembles the late Robert Stack. The mystery they are fighting to solve: "Does David Vitter live by another set of rules?"
The easy answer seems to be "well, he likes prostitutes, so yes." The answer Forgotten Crimes provides actually takes Vitter's only redeeming quality– his extraordinary education– and frames it as a fault which puts him at odds with the average Louisianan. It's dirty politics to bring an opponent's prostitutes into play, but Vitter has left himself more open to this type of attack than any most, if not all, politicians in recent memory (save maybe Larry Craig). It seems unlikely that this will be anything but a slam dunk– until you look at the polls. Yes, Vitter is leading opponent Rep. Charlie Melancon by, in the least favorable polls, by ten points. It's hard to see how Forgotten Crimes will do anything to change that, given none of the information in it is new and Louisianans seem to be comfortable with keeping Vitter in office.
Watch the video below:



[h/t Wonkette]
Have a tip we should know? tips@mediaite.com