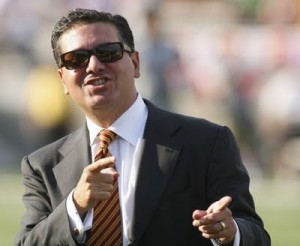 Washington Redskins owner Dan Snyder was not too happy, to put it mildly, with the Washington City Paper's November 2010 article "The Cranky Redskin Fan's Guide to Dan Snyder." The article, complete with a photo of Snyder sporting doodled-on devil horns, touted itself as "an encyclopedia of the owner's many failings."
Yesterday evening, the paper chronicled how the Redskins' General Counsel, David Donovan, wrote a letter to Atalaya Capital Management – the investment company which owns Creative Loafing, Inc, the paper's parent company – detailing several segments of the article that Snyder felt were inaccurate. The letter also hinted at a possible lawsuit, accusing the article's author, Dave McKenna, of performing "character assassination."
Atalaya, which does not have a hand in the paper's editorial direction or content, passed the letter on to the WCP itself, which reviewed Donovan's complaints and determined that, contrary to Snyder's opinion, they had gotten all their facts right. They even reached out to Snyder, offering him a forum to address his problems with the article:
Nevertheless, we have offered Snyder the opportunity to publish a guest column responding to the article, we proposed that he meet with our editor to discuss his concerns, and we invited him to provide information demonstrating that what we published was false. If we were to conclude we got something wrong, we would correct it. We also emphatically reject the suggestion that we stop reporting on Snyder or that we pull McKenna, who has written for City Paper since 1986, from reporting on Snyder and/or the Redskins.

The only response to our offer was a letter earlier this week from Patty Glaser, a prominent Hollywood lawyer, demanding that certain documents be retained for litigation. We have referred that letter to our longtime media counsel, Seth Berlin, at Levine Sullivan Koch & Schulz. Although we had not reported on this while waiting for a response from Snyder, we do so now.
The paper also note that it is quite prepared to fight back against Snyder and his lawyers should they indeed decide to bring on a lawsuit. Basically: This should be fun to watch and, depending on the information that comes out of the case (should a lawsuit indeed go through), we'll see that there's a difference between being understandably upset that a publication is spewing incorrect information and simply not liking what people write about you.
Have a tip we should know? tips@mediaite.com