Washington Post Op-Ed By 'WASP' Complaining About Her Jewish Ex-Boyfriends Draws Backlash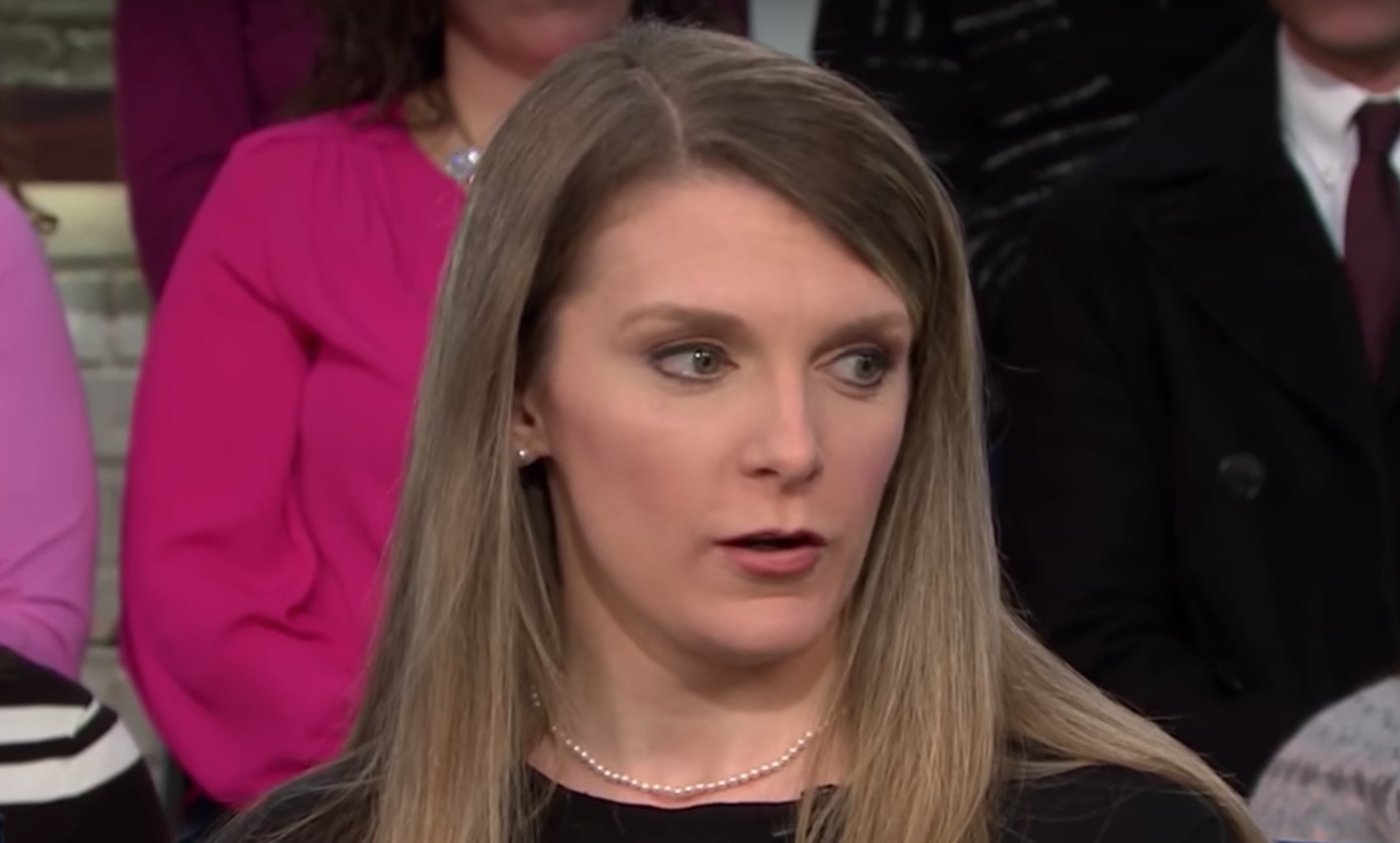 "I can now say with certainty that I am tired of being a Jewish man's rebellion," journalist Carey Purcell writes in a Washington Post op-ed, published Monday morning, about dating Jewish men.
"At first glance, I fulfill the stereotypes of a white, Anglo-Saxon Protestant (WASP)," she explains. "I'm blond, often wear pearls and can mix an excellent, and very strong, martini."
Since moving to New York, Purcell writes that she had "two serious relationships with Jewish men who at first said religion didn't matter — and then backtracked and decided it did." And while Judaism is "a religious faith and culture [she has] grown to love and respect," she blames the religion for the demise of both of her relationships.
Purcell continues that she was considered by her two former lovers as a "last act of defiance against cultural or familial expectations" — as the two men went on to date Jewish women — "the equivalent of a woman dating a motorcycle-driving, leather-jacket wearing 'bad boy' before settling down with a banker with a 9-5 job."
And, in remarkable conclusion, Purcell wraps up the op-ed by revealing a cocktail she's "determined to create":
In the meantime, I'll continue dating and meeting my friends — Jewish and not — to swap Tinder horror stories over drinks, hopefully while sipping the cocktail I'm determined to create, named "A Jewish Man's Rebellion." I'd like it to feature a bourbon base and be garnished with a slice of bacon.
The bizarre op-ed — in which the author essentially complains that her two latest breakups were actually the faults of her ex-boyfriends for being Jewish — naturally drew the ire and mockery of Twitter, with many commentators questioning why the Washington Post would publish such offensive drivel:
Insufferable dating testimonials are back only its 2018 so they have to be wildly anti-Semitic too. https://t.co/gOABmHvKwe

— Jack Smith IV (@JackSmithIV) April 2, 2018
"I'm tired of making poor dating choices based on non-shared values and procrastination about tough conversations, but it's that Jew's fault" https://t.co/ESM7mfWY5N

— Ben Shapiro (@benshapiro) April 2, 2018
So Marty Baron, you happy publishing anti-Semitic gibberish during Pesach? https://t.co/D3ABITBuHG

— John Podhoretz (@jpodhoretz) April 2, 2018
Wowww. What is the over/under on how many hours it takes the Post to apologize for this https://t.co/DA3DMVa20y

— Daniel Dale (@ddale8) April 2, 2018
Which editor at the Washington Post thought that publishing "I refuse to date Jewish men because I believe stereotypes are real" was a good idea https://t.co/U1HsGG4Tue pic.twitter.com/60Q3cU4I6w

— Zack Beauchamp (@zackbeauchamp) April 2, 2018
Winner of the totally tasteless and bordering on anti-Semitic column award. Kind of surprised the Washington Post published this. https://t.co/87JLtgX7AB

— Sheryl Gay Stolberg (@SherylNYT) April 2, 2018
"Guys? I just want to say? That I will, like, NEVER tire of being a Jewish man's rebellion." – Me writing in the Washington Post tomorrow, but it's in curlicue bubbly cursive which is how I read that essay in my mind

— Sara Benincasa (@SaraJBenincasa) April 2, 2018
I want to give the Washington Post the benefit of the doubt and assume this column by @CareyPurcell was meant as edgy humor, not barely disguised anti-Semitism. But I'm not sure I can. This is a sad moment for a fantastic newspaper. https://t.co/XPMFHJdpnV

— Yochi Dreazen (@yochidreazen) April 2, 2018
I for one, am relieved that The Israelite's LUST for the Willowy Shiksa is finally being EXPOSED, no thanks to (((the media))) https://t.co/iZKjCbyLJM

— T'Challah ? (@AdamSerwer) April 2, 2018
ah yes the well known and not at all degrading "why i don't date jews anymore" coming of age story. thanks @washingtonpost https://t.co/hvdzqSuEWC

— Talia Lavin (@chick_in_kiev) April 2, 2018
It feels like maybe these Jewish men aren't leaving you because you're not Jewish as much as they're leaving you because you hate Jews? https://t.co/DOk5E1fm5C

— Taffy Brodesser-Akner (@taffyakner) April 2, 2018
I've dated two men from Ohio, and let me tell you, I'm tired of being just an excuse for all Midwesterners to say "coke' instead of "pop" for a while https://t.co/ikDZg87UQ8

— Olga Khazan (@olgakhazan) April 2, 2018
wow i am so sorry on behalf of all of us loud, non-pearl wearing jewish slobs who have stolen your nice jewish boyfriends https://t.co/tdmJePD6ym

— Dana Schwartz (@DanaSchwartzzz) April 2, 2018
It's definitely not super racist and pathologically narcissistic to write an op-ed in a major newspaper about how you're done dating people of one specific religion, no sirree bob https://t.co/syEJDJJBaK

— Woman (@hels) April 2, 2018
The Jewish media didn't want this published, but the jewish media's overbearing jewish mom made them do it to prove that shiksas can't be trusted https://t.co/EAyk8uJQJj

— Noah Hurowitz (@NoahHurowitz) April 2, 2018
If you've dated a few people from a given religion and decided you don't want to do that anymore … maybe don't write that down and share it with other people? https://t.co/VQMYDihGPd

— Robert VerBruggen (@RAVerBruggen) April 2, 2018
I dated two humans once and it's only fish people for me now https://t.co/O1kR1KduQj

— Benjy Sarlin (@BenjySarlin) April 2, 2018
babe, i think your boyfriends broke up with you because you're antisemitic https://t.co/Z3r54yTfPn

— Kelly Stout (@scoutstout) April 2, 2018
The WaPo story about the Christian lady who doesn't want to date Jews anymore is as weird as I was led to believe. https://t.co/VPKSpFoL4Z

— Ben Dreyfuss (@bendreyfuss) April 2, 2018
"complete fucking mess of a dating essay that a girlfriend of the writer should've stolen her laptop to prevent her from writing" is one hell of a hate-reading category https://t.co/WlGVNOvWRJ

— Natalie Shure (@nataliesurely) April 2, 2018
If your largely secular boyfriend doesn't invite you to his family's seder, he's just not that into you, honey. https://t.co/tc3qWTmYmn

— Lydia Polgreen (@lpolgreen) April 2, 2018
I mean, it's just liquor. Making a weak martini would probably be a tougher challenge. https://t.co/yfGILTAibl pic.twitter.com/WRnsWY67L5

— Sonny Bunch (@SonnyBunch) April 2, 2018
*briefly dates two Jewish men*

Hmm, better publish my thoughts on you people in The Washington Post

— Rafi Letzter (@RafiLetzter) April 2, 2018
Have a tip we should know? tips@mediaite.com
Aidan McLaughlin - Editor in Chief