Washington Times Columnist Blasts Obama For…Not Responding to Beastie Boy's Death?!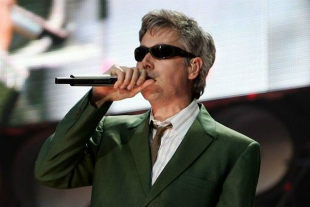 You may recall how last week I criticized Glenn Beck for his seeming inability to oppose the president on policy alone. Well, let's add Washington Times conservative columnist Joe Curl to that group. In Sunday's Times, Curl chastised President Obama for his lack of response to last Friday's death of Beastie Boys rapper Adam Yauch (aka "MCA"):
[H]alf-white Barack Obama (exactly my age) didn't say a word, even though he was talking to college kids that day, but make no mistake, MCA was no Jay-Z or Kanye West. This guy was the real deal, groundbreaker, up from his bootstraps, Brooklyn boy made good. Funny the "coolest president ever" doesn't say a word about the passing of MCA. Weird and kinda sad, actually.

"Yauch was born an only child in Brooklyn, New York, the son of Frances, a social worker, and Noel Yauch, a painter and architect," Wikipedia says [Andrew Kirell note: YES, HE REALLY DID JUST CITE WIKIPEDIA]. "His father was Catholic and his mother was Jewish." Kinda like Barack, all over the place, half this, half that, and a tough life ahead from the outset. But nothing from the first half-white, half-black president (MSM has made him black — he's not; he's half-and-half. No, Trayvon Martin wouldn't have looked like his son.)
Oh, please.
I get the sense that Curl's eyes widened when he realized he had an opportunity to criticize the president on something the "cool" kids were talking about…as opposed to, you know, the usual policy stuff that actually matters.
The best take on this nonsense goes to Reason magazine editor-in-chief Matt Welch, who really puts it to Curl:
[A]s both a fan of the Beasties and a non-fan of Obama, what I really want more than anything is to keep those topics separate, because they have nothing to do with one another, on account of politics being a tawdry zero-sum game and music being totally awesome. I'm not sure what's the sicker impulse here, to seek artistic validation from the White House, to politicize each and every last good goddamned thing about life, or to make this somehow all about race.
Hallelujah!
It is just downright annoying when people expect the White House to comment on matters of pop culture. We really shouldn't care what the president thinks about anything but policy. I could care less what the president thought of Adam Yauch; and it doesn't send a thrill up my leg to know that Obama has Arcade Fire on his iPod; and it will always annoy me when the winners of major sports championships meet with any president.
But above all: Is it really not enough to oppose the president on policy grounds? Must we really turn the death of a pop culture legend into a question of race and politics?
Have a tip we should know? tips@mediaite.com