Pentagon Spokesperson: DoD Quit Consulting On Avengers Movie When It Stopped Making Sense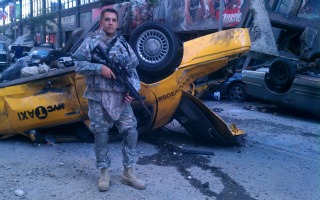 The Defense Department's Hollywood liaison, Phil Straub, recently told Wired Magazine's Danger Room blog that the Pentagon had to cease cooperation with the film Avengers because it had become too unrealistic and no longer representative of the military.

RELATED: NY Times Buries The Lede: Anderson Cooper's Ratings Surge At 8PM
Strub told Danger Room reporter Spencer Ackerman that the film "just got to the point where it didn't make any sense." Here's his quote which I suppose he apparently didn't give while sitting aboard a floating, invisible "helicarrier" and fending off attacks from Norse gods from space.
"We couldn't reconcile the unreality of this international organization and our place in it," Phil Strub, the Defense Department's Hollywood liaison, tells Danger Room. "To whom did S.H.I.E.L.D. answer? Did we work for S.H.I.E.L.D.? We hit that roadblock and decided we couldn't do anything" with the film.
The weird thing is, the Pentagon often takes pride in working with Hollywood studios to ensure that the depiction of the military's organization and hardware in feature films are as close to reality as possible. The Pentagon worked on films like Act of Valor, Iron Man and the upcoming Battleship. However, Avengers evidently went too far for the DoD to continue to affiliate with.
So, apparently, this movie is too silly but aliens shooting giant exploding pegs into Naval ships while Rihanna saves the world isn't.
Strub told Ackerman that the persistent problems that the Pentagon encountered were things like S.H.I.E.L.D.'s constitutional authority, what body oversees the organization and the fact that, as the movie suggest, that S.H.I.E.L.D.'s equipment comes on loan via a United Nations Security Council resolution.
Wait. So, in real life, S.H.I.E.L.D. wouldn't be run by shadowy council of Powers Boothe and Jenny Agutter? Next thing you'll be telling me there aren't evil rock spiders on the moon.
h/t Wired Magazine
Have a tip we should know? tips@mediaite.com