Watch Black C-Span Guest's Incredible Response to Caller's Question on How to Stop Being Racist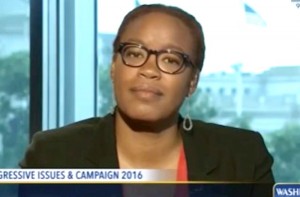 Something rather unusual happened last week on C-Span when an African-American guest ended up having a very tender answer for a caller who courageously owned up to his own prejudice, and asked how he could get over it.
Heather McGhee is a public-policy organizer and president of the progressive Demos think tank, and her appearance on Washington Journal consisted mainly of the standard discussions of policy and activism. The show took quite an emotional turn, however, when a man who called himself "Gary" phoned in and asked McGhee to help him adjust his mindset because "I am a white male, and I am prejudiced."
Gary said his behavior wasn't anything he was taught, but that he grapples with an internal struggle when he reads or thinks about crime rates, drugs, and various problems associated with African American communities. McGhee kept her cool and nodded politely as the man asked her for a way to better understand and let go of his prejudicial tendencies.
"I have these different fears, and I don't want my fears to come true. You know, so I try to avoid that, and I come off as being prejudiced, but I just have fears. I don't like to be forced to like people. I like to be led to like people through example. What can I do to change? You know, to be a better American?"
McGhee thanked Gary for the honesty of his question, and she acknowledged that even if they are mostly unconscious, "people of all races and ethnicities and backgrounds" hold on to certain prejudices. McGhee said Gary's candor was one of the most powerful things that can move discussions on race forward, and she suggested several ways for him to broaden his understanding about how race factors into American society.
Watch above, via Demos' Facebook page.
[Image via screengrab]
— —
>> Follow Ken Meyer (@KenMeyer91) on Twitter
Have a tip we should know? tips@mediaite.com