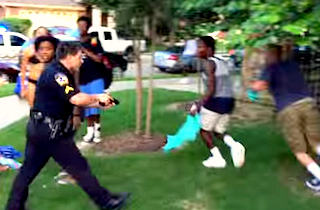 At least one police officer has been put on leave in McKinney, Texas after video emerged of him pushing a bystander down and drawing his weapon.
The incident occurred Friday when police responded to disturbance call at a community pool. According to the McKinney PD the officers were called because a number of "teens," also commonly known as "youths," from outside the neighborhood were using the pool.
On its Facebook page the department said a "large crowd" refused to comply with their orders, at which point multiple backup units responded. At some point, according to the cops, a fight broke out between the teens: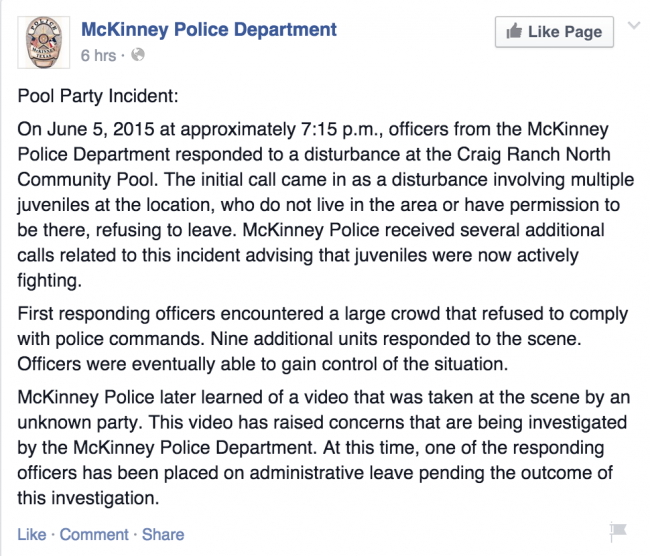 However, bystanders told BuzzFeed that the teens had been invited there as part of an end-of-school party, and had guest passes. Some witnesses said nearby parents were upset at the presence of African Americans, presumably from another part of town, at the pool, and said it was actually adults who started the fight, telling the kids to go back to "Section 8 [public] housing."
"I think a bunch of white parents were angry that a bunch of black kids who don't live in the neighborhood were in the pool," said the 15-year-old who shot the video. "Everyone who was getting put on the ground was black, Mexican, Arabic. [The cop] didn't even look at me. It was kind of like I was invisible."
In the video one officer is seen pushing a girl down onto a sidewalk and then drawing his firearm when others approached. "You hit me for no reason," the girl is heard to yell.
The McKinney PD said it is investigating the incident and has placed one officer on leave in the meantime.
Watch the video below, via YouTube:
Watch the report via CNN, below:
[Image via screengrab]
[h/t BuzzFeed]
——
>> Follow Evan McMurry (@evanmcmurry) on Twitter
Have a tip we should know? tips@mediaite.com