Watch: Dudes With Loaded Guns Face Off Against Moms Demand Action At Gun Protest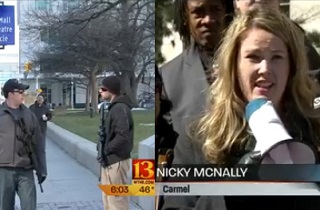 While some members of Moms Demand Action stood behind President Obama at Thursday's White House speech on preventing gun violence, other members of the group were facing down armed counter-protesters at the Statehouse in Indianapolis, Indiana. According to ThinkProgress, four men carrying loaded weapons were joined by Melinda Porter, who runs the 434 likes-strong anti-gun control group Indiana Moms Against Gun Control. The optics of assault weapons vs. moms is arguably not fair to the anti-gun regulation folks, but the real magic happens when the gun nuts open their mouths.
It was Moms Demand Action member Katerina Rodgaard who introduced President Obama at Thursday's White House event. Katerina was a dance instructor who lost a student in the Virginia Tech mass shooting. While Katerina was listening to the President's speech, Moms Demand Action's Nicky McNally was leading a protest at the Indiana statehouse in Indianapolis. Nicky brought her kids with her. The other side brought the heat.
In Washington, it can be tough to get a straight answer out of opponents of sensible gun regulations, where the arguments mainly consist of what "can pass" and what they can ignore completely. Out in the real world, though, things are much simpler. If a group of moms hold a demonstration to advocate for gun regulations, you show up with assault weapons, loaded with a couple of bullets for each mom. Those weapons may have given the counter-protesters a sense of physical security, but they couldn't protect them against the onslaught of two simple questions. Indianapolis TV station WTHR caught several exchanges between the groups, including one in which a gun regulation advocate asks a counter-protester holding what appears to be an AR-15 with a 30-round magazine, "Do you know anyone who goes hunting with this?"
One of the men repeatedly insists that he does, but the man with the gun finally replies, "This is not about hunting, for me. For some people, it is."
The reporter asks him "So, what do you do with it?"
Echoing the Newtown non-hecklers of grieving father Neil Heslin, the man replies, "It is my right to have this firearm, and I don't have to defend, or show a need for, this firearm to own it."
If lawmakers were this honest, the gun debate would be much more productive, since there are proven constitutional limits to the right to bear arms.
But in a later segment, Indiana Mom Against Gun Control Melinda Porter delivers the most priceless of responses to a question about background checks. "I know him," she says, "and I could sell him a gun. I know he's not going to do anything wrong with it. And that doesn't require a background check."
Okay, that's progress, can we get a Universal Vouch For Your Fellow Gun Nut bill past the NRA?
Later in the clip, Nicky McNally asks one of the armed men "What's the purpose of walking around with (the 30-round loaded AR) today?"
"It's obviously a demonstration," he replied, "because a lot of people believe that this is some kind of vicious item, this is nothing but a tool."
"Nothing but a tool." Now that's a bumper sticker. To be fair to "a lot of people," though, it is a tool for killing up to thirty of something in under a minute. A gang of ninja turkeys?
Sadly, back in Washington, it still appears that those four guys and their hundred or so bullets outweigh the voices of those moms, and their kids. We'll see how long that math holds up.
Here are both segments, from WTHR:
(h/t ThinkProgress)
Have a tip we should know? tips@mediaite.com