Watch How Marco Rubio Reacts When Man Shouts 'Waterboard Hillary' at Rally
Watch How Marco Rubio Reacts When Man Shouts 'Waterboard Hillary'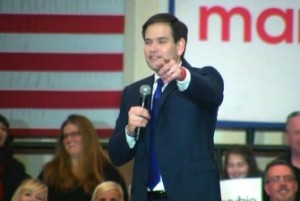 At least since 2008, when someone at a John McCain rally shouted that then-Senator Barack Obama was a "terrorist," candidates' reactions to rabble-rousers at campaign rallies have increasingly become fodder for outrage. It's a phenomenon that has cropped up repeatedly this cycle, including at a Marco Rubio rally Tuesday in South Carolina.
While discussing his plans to "keep Guantanamo forever," a man in the crowd pretty clearly shouted "Waterboard Hillary!"
Rubio instantly smiled in what appeared to be recognition, but here's how he reacted:
I don't wanna know what he said, please don't, 'cuz then whatever… the press is here, I didn't even hear what they said. I know it wasn't a bad word, that's all that matters.
That all depends on what your definition of a "bad word" is.
Whether his ignorance was feigned or not, Rubio almost certainly knew the man was saying something about Rubio's Democratic rival Hillary Clinton, and his immediate concern was telling. Whereas McCain seemed visibly disturbed at what was shouted at his rally (and would later defend Obama against a different crowd member), Rubio's primary concern is with the media optics, not with the possibility that someone at his rally shouted something heinous and potentially dangerous.
Even worse, though, I suspect Rubio heard exactly what the man said, as it was clear as a bell and Rubio's reaction conveyed that. In either case, this incident confirms what I've been saying for a long time, and what President Obama alluded to in his press conference Tuesday. Donald Trump's brand of angry, resentful politics is not a rejection of Republican politics, it is a distillation of it. The ugliness is all there, Trump has just washed off all the concealer.
This is an opinion piece. The views expressed in this article are those of just the author.