Watch Mediaite Attempt To Cover The…Eventful…Press Conference Of Fringe Candidate Connor Ratliff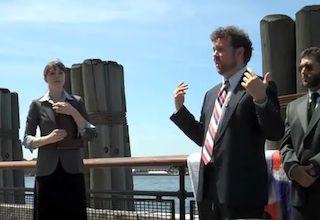 Those of you who have been reading Mediaite for a while know that the only 2012 presidential candidate we have ever come close to officially endorsing is Connor Ratliff. Ratliff, a frequent guest on the cultishly beloved comedy series The Chris Gethard Show, who has one main political message; you need to be 35 years old to be president, he is 35 years old, therefore he should be president. We've been following Ratliff's campaign since the beginning, back when The Chris Gethard Show was just cultishly semi-recognizable. So, despite us not having covered Ratliff much since the big controversy when he turned 36, this reporter was eager to attend the candidate's first big press conference, held at New York's historical Battery Park.
It is safe to say that the event went neither as I or the candidate planned.
RELATED: Connor Ratliff, Age 36, Debates Jimmy McMillan In The Only Presidential Debate Worth Watching
Many members of the press were invited but, strangely, only three attended; myself, a gentlemen from Black Book, and a particularly hostile seeming gentlemen from MSNBC. And, while Ratliff's newly appointed press secretary, Langan Kingsley, tried her best to keep things running smoothly, the entire event seemed to go off the rails almost instantly.
Ratliff seemed slightly unnerved by the "gotcha" questions from the collected members of the press; questions like "Who are you?," "Are you in any way qualified to be president?," and "You're not even 35." (That last one wasn't even a question but still seemed to hit Ratliff the hardest). To make matters worse, most of the questions were coming from a disgruntled former member of Ratliff's own staff, a Mr. Will Hines who had been fired as Ratliff's pollster after he interpreted focus group data as giving Ratliff a 0% chance of winning the election.
I'm afraid that, after the conference was finished, my confidence in Ratliff had been shaken. At least, that was the case until today. On this Fourth of July, Ratliff's campaign has bravely released full video of the event to the public, something I don't think any other candidate would have had the courage to do.
Sure, he may be slightly unqualified, but that courage has to stand for something.
The video has been released in two forms; a shorter four minute highlight reel as well as a straight video record of the entire conference. You can watch both of them below. As you do, feel free to answer any of the following questions in the comments:
Do you think Ratliff is more or less qualified than the candidates of the two major parties?
Do you think the Nazis have forever ruined the term "final solution"?
And do you think this reporter pulls off those sunglasses I'm wearing the entire time? Seriously, I just got them a few weeks ago and I'm not sure yet.
Both videos are below.
Have a tip we should know? tips@mediaite.com