WATCH: Nigel Farage Gets Pelted by Protest Milkshake Following Brexit Rally
Brexit leader Nigel Farage was attacked over the weekend by a man who threw a milkshake at him after an event he held in Newcastle.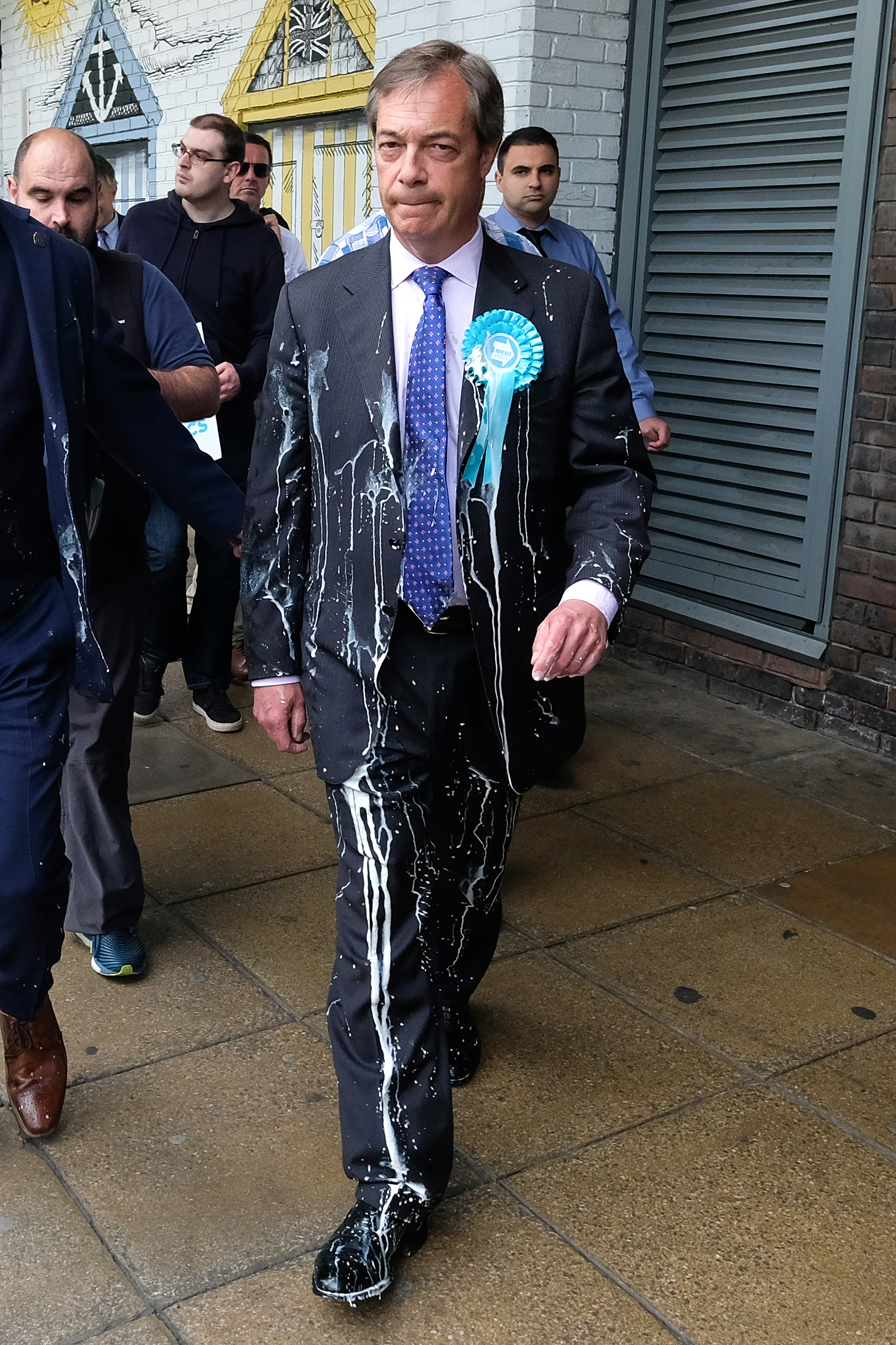 Farage was in town to give a speech for his party's campaign tour, and as he and his team walked around after the event's conclusion, the British politician was doused by the dairy drink thrown at him. The milkshake thrower, identified as Paul Crowther, was arrested and handcuffed, and Farage reportedly muttered to his security team that the incident was "a complete failure, you could have spotted that a mile off."
Sky News picked up on how Crowther has stood by his actions after being charged with common assault, saying "the bile and the racism he spouts out in this country is far more damaging than a bit of milkshake to his front." Farage offered this statement about the incident on Twitter.
Sadly some remainers have become radicalised, to the extent that normal campaigning is becoming impossible.

For a civilised democracy to work you need the losers consent, politicians not accepting the referendum result have led us to this.

— Nigel Farage (@Nigel_Farage) May 20, 2019
Farage's milk-shaking comes after a number of incidents where protestors have thrown food and drinks at far-right politicians during public events. UKIP's Carl Benjamin and former English Defence League leader Tommy Robinson had similar experiences with Farage in recent days when demonstrators threw milkshakes at them too.
The result of this trend was that last week, British police ordered a McDonalds in Edinburgh to not sell milkshakes while Farage was holding a rally nearby. By contrast, Burger King has been accused of inciting violence online with these tweets on how they won't stop making shakes for customers.
We'd never endorse violence – or wasting our delicious milkshakes!

So enjoy the weekend and please drink responsibly people.

??

— Burger King (@BurgerKingUK) May 18, 2019
Watch above, via Sky News.
Have a tip we should know? tips@mediaite.com