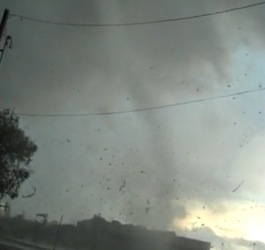 A YouTube video captures the real-time destruction of a tornado ripping the roof off a Billings, Montana sports arena known as MetraPark yesterday. As yet, no deaths have been reported, but the video below shows an enormous funnel cloud and lots of debris dangerously swirling in the air.
Writing for the NY Times, Derrick Henry reports:
About 20 members of the Montana National Guard and police watched over the damaged properties Sunday night and early Monday morning, Sgt. Kevin Iffland of the Billings Police Department said. City workers worked past nightfall to clean up debris and devastation left by the tornado. The authorities hoped to clear Main Street and reopen the heavily traveled thoroughfare for the Monday morning commute. Hundreds of cars were backed up on the northbound section of the street Sunday evening as onlookers slowed to look at the mess on the southbound side.The tornado was first reported around 4:30 p.m., said Lt. Mark Cady, of the Billings police. The tornado approached the city from the southeast, doing the most damage in two neighborhoods, the Heights and the Lower Heights, before heading northwest, he said.

The tornado also tore off more than half of the roof of the Rimrock Auto Arena at MetraPark, leaving debris from it strewn over a three-quarter-mile area, Lieutenant Cady said. The arena, which seats 10,000 people, holds indoor football games, rodeos and concerts.

A casino, a bar and a laundry in the city's downtown area were also damaged, a glass shop was leveled and some gas mains were ruptured.
Have a tip we should know? tips@mediaite.com
Colby Hall - Founding Editor