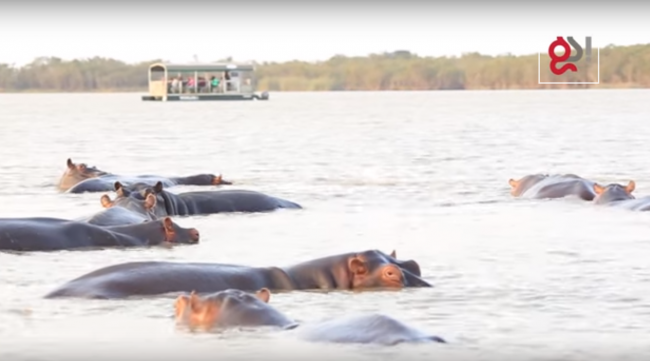 Listen guys, it's been a tough week for a lot of you. Lincoln Chafee, if you're reading this, you know what I'm talking about. Anderson Cooper really gotcha'd on Tuesday about that time you didn't know what you were voting on as a United States Senator. Or Raven Symone, I feel for you, just today you had your system shut down by Ann Coulter when you were just trying to make a plea from the heart. Ben Carson's campaign staff: I'm sorry that of yesterday you're effectively out of work for the length of your next pay period.
Put on your slippers and feast your eyes on a great piece of nature out of iSimangaliso Wetland Park in South Africa.
Like Chris Christie venturing deep into the belly of a Democratic Legislature in New Jersey, a bull shark wanders into dangerous hippo territory in the below video. Despite the voracity of the bull shark, a dozen or so hippos manage to combine their talents (well, at least three or so) to ward off the danger. 
Perhaps there are bigger lessons that can be applied from this animal encounter to the political arena, like surviving when you're deep within enemy territory; Hillary Clinton can use that as she looks to fend off the The House Select Committee on Benghazi, or Donald Trump when he hosts SNL. Either way Lincoln Chafee can take comfort in knowing that if a bull shark can survive a pod of hippos, even his campaign and all 30,000 of its dollars can survive to fight another day.
[image via screengrab]
—
>> Follow J.D. Durkin on Twitter (@MediaiteJD)
Have a tip we should know? tips@mediaite.com