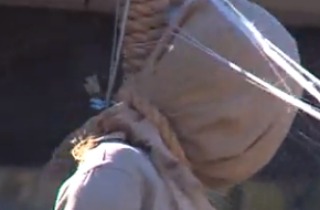 A Utah man told news outlets that he will not remove the hanged man he set up at his house for Halloween, even with complaints that it reminds some people of lynching.
NBC affiliate KSL gave a report on Tuesday on Kevin Van Miltenberg, a Halloween-decorating enthusiast, who received notice that a local NAACP chapter found one of his decorations to be an insensitive allusion to the way Black people have been killed in history.
The decoration in question was an animatronic dummy with its hands tied, hood over its head, and with motors inside to make it imitate the writhing spasms of a human body.
"When I was making it in the first place it never crossed my mind that one day somebody might take offense to it," Van Milternberg said. "I don't make these to be offensive at all. I just make them for fun and for people to enjoy."
Van Miltenberg was reported to have been doing over-the-top decorations in his yard for years (the dummy having been introduced years ago), and said the complaints only came in after his house was featured in an article about the holiday. Stanley Ellington, president of the NAACP chapter, sent a statement to the Standard-Examiner, saying the dummy makes a mockery of lynching and should be removed:
There is no doubt what this is. The founding in 1909 and history of the NAACP was because of the many lynchings in our country and has become synonymous with the lynchings of African Americans.
You can watch KSL's report in the video above.
[h/t Talking Points Memo]
[Image via screengrab]
— —
>> Follow Ken Meyer (@KenMeyer91) on Twitter
Have a tip we should know? tips@mediaite.com