Wealthy Parents Start Super PAC to Fund Millennial Son's Congressional Campaign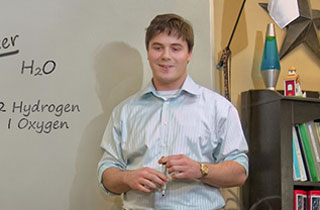 27-year-old Oklahoma native Mike Turner fits every terrible media definition of an Entitled Millenial: he lives in his childhood home, he has a large trust fund, and his parents are funding his career ambitions. Namely, they opened a super PAC, poured hundreds of thousands of dollars into it, and used the money to buy television ads supporting their son.
According to campaign finance reports, Turner's parents are the only contributors to the Democracy Values Fund, which has spent $225,693 on ads supporting their son. Turner himself has contributed $625,000 to his campaign — all of it his own money, derived from his stake in the family's construction business.
But Turner — not to be confused with actual Congressman Michael Turner (R-OH10) — has plenty of experience to serve in the United States Congress, reports Mother Jones:
Like most millennials, he's held plenty of part-time work. In 2013, he was elected to the Oklahoma House, where he became known for introducing a bill to ban all marriage in Oklahoma. That way, Turner explained, the state could prevent same-sex marriage without running afoul of the Supreme Court ruling that same-sex marriage bans were unconstitutional.

His campaign website describes him as an entrepreneur and a consultant to inventors and manufacturing startups—although it doesn't identify any businesses he's advised, and a Nexis search and a search of Oklahoma's business entities failed to turn up any corporations in Turner's name.
Oklahoma's GOP primary is today, and Mike Turner faces six other candidates, including a "retired lieutenant colonel who led the search for Saddam Hussein." Turner, however, is more qualified due to his experience as a unique and beautiful snowflake.
[Mother Jones]
[Image via Mike Turner for Congress]
— —
>> Follow Tina Nguyen (@Tina_Nguyen) on Twitter
Have a tip we should know? [email protected]