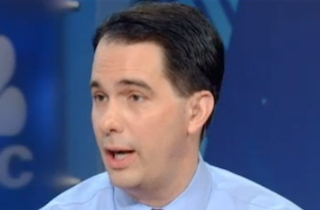 Jezebel ran a story Friday by former Intercept reporter Natasha Vargas-Cooper highlighting a provision in Wisconsin Governor Scott Walker's proposed budget that deleted numerous requirements for reporting sexual assault on campus. "Scott Walker Wants Colleges to Stop Reporting Sexual Assaults," the headline read.
But the twenty-six deletions, part of $300 million worth of budget cuts and accompanied by an effort to largely disassociate the university system from state control, were requested by the university to eliminate duplicate reporting requirements. The information is already reported to the Department of Justice, as well as published on the university's website. (The Cap Times gets into the details.)
"State statute changes were required to give UW System full authority status and the UW System requested the deletion of provisions of duplicative reporting requirements as part of the move to the authority," a Walker spokesperson said Saturday. "In this case, UW System requested this report requirement be removed because there is already a federal reporting requirement related to sexual assault and harassment on campuses."
"Student education and mandatory reporting are important practices also built in, and those practices are going to continue on our campuses," a UW spokesperson told the Associated Press. "We are not lessening our commitment here or at our institutions one iota."
Jezebel's story was first updated at the bottom with the following:

It now contains a fuller correction at the top:

A "college columnist" for the Daily Beast based a story off Jezebel's post, and the site retracted it in separate piece. "The Daily Beast is committed to covering the news fairly and accurately," the site wrote Saturday, "and we should have checked this story more thoroughly. We deeply regret the error and apologize to Gov. Walker and our readers. Our original story should be considered retracted."
This is the second story in as many weeks to misreport Walker's budgetary (mis)deeds, and the second to require a walkback.
Vargas-Cooper tweeted after the updates:
Ran an update on the Walker piece. Find another thing to be outraged about sweet, sweet Walkerites.

— Natasha VC (@natashavc) February 28, 2015
Also, I'm not gonna apologize for reporting what was in the budget. Because that was in the budget. Ask your gov. to apologize for bad optix

— Natasha VC (@natashavc) February 28, 2015
At a time when there is HEAVY scrutiny on state/fed/colleges, a proposal to delete standing regulations, requires more tact.

— Natasha VC (@natashavc) February 28, 2015
An update to the update. Vargas-Cooper later tweeted:
(1) I realize now that it would have been worth a follow up phone call to Walker's office.

— Natasha VC (@natashavc) February 28, 2015
(2) So, you guys, Walker folk and media pundits alike, I screwed up.

— Natasha VC (@natashavc) February 28, 2015
(3) I know I said I wasn't going to say sorry but I hope you won't fault me for changing my mind.

— Natasha VC (@natashavc) February 28, 2015
[Image via screengrab]
——
>> Follow Evan McMurry (@evanmcmurry) on Twitter
Have a tip we should know? tips@mediaite.com