Welcome to the third edition of the #WeeklyWTF, the Mediaite dynamo that showcases the absolute best of the wackiest sh*t in the week that was. Sure, a lot of important things happen in the news media, but let's face it — the best stuff is the most off-the-wall nonsense the 24-hour news cycle has gifted (or cursed) society with. Here now, the best of the worst from the past 168 hours.
Like when Brian Williams cut to Al Gore during the Paris attacks…
Throughout last Friday's coordinated terrorist attacks in Paris, 24-hour cable news channels and broadcast media outlets churned out endless coverage. Reporters on the ground talked, raw footage was annotated live, and in-house experts were quizzed about every hypothetical imaginable. That's how this beast works now, though that didn't stop MSNBC anchor Brian Williams from randomly bringing up former vice president Al Gore during the attack.
"Among prominent Americans in Paris right now, Al Gore doing a kind of telethon broadcast as a run-up to next week's climate summit," said Williams on air, adding that ex-New York City mayor Mike Bloomberg was also in town. So were the Deftones and a few others American bands. Um, okay Brian. Thanks for the… updates.
Like when 3 stray cats waltzed across the G20 Summit stage…
The G20 Summit in Antalya, Turkey was already going to be a high-security event, but world leaders in attendance weren't taking any chances after Paris. At least until three cats simply wandered onto the main stage to sniff around (and possibly look for a box to sh*t in).
Obama and Putin upstaged by three cats. #G20Turkey #G20AntalyaSummit pic.twitter.com/svxZAoX45D

— Duncan Stone (@DuncanCStone) November 15, 2015
The short clip, which was pulled from the press pool and uploaded to Twitter by BBC photojournalist Duncan Stone, is probably the most interesting thing to come out of the entire meeting.
Like when a Louisiana gubernatorial candidate used Paris attack footage in an ad…
A full four days after the Paris attacks, Sen. David Vitter (R-Louisiana) used viral footage from the media's ongoing coverage for an attack ad against his gubernatorial rival, John Bel Edwards. Not only that, but Vitter's ad also criticized President Barack Obama's acceptance of Syrian refugees (and Edwards' support).
Obama is sending Syrian refugees to Louisiana & John Bel Edwards pledged to work with him to bring them here! https://t.co/ljfNiWiZ8q — David Vitter (@DavidVitter) November 16, 2015

Elections are ugly, especially when they're down to the wire between two candidates who are as partisan as they can be. But using footage from a horrific event that wasn't more than four days past?
Like when John Kerry awkwardly said the Charlie Hebdo attack has "legitimacy"…
Speaking of leaving a bad taste in the mouth, U.S. Secretary of State John Kerry inserted both feet into his mouth (and a few other choice appendages) when he described the January Charlie Hedbo attacks as having "legitimacy."
"There was a sort of particularized focus and perhaps even a legitimacy in terms of — not a legitimacy, but a rationale that you could attach yourself to somehow and say, okay, they're really angry because of this and that," he said, adding that Friday's attacks were "absolutely indiscriminate."
Yes, he was trying to make a point about the inherent differences between the two events, but Kerry only made things worse. He later clarified his comments.
Like when The Daily Caller gawked at some "Syria-sly Hot" alleged refugees…
In a jokey effort to turn the tide of the ongoing push back against Obama's program to resettle Syrian refugees in the U.S., The Daily Caller collected 13 images of "Syria-sly hot" alleged refugees from the war-torn country. Needless to say, but the Internet did not take too kindly to the conservative media site's attempt at humor.
Delete your page, @DailyCaller. This is disgusting. "They are Syria-sly hot." https://t.co/yHDXCl1Kvx #refugees pic.twitter.com/ldXAUAtPBm

— Brian Ries (@moneyries) November 18, 2015
Whether or not you thought the post was funny, sexist, harmless, horrible or something in between, perhaps the worst bit about it all was that there's no way to verify whether or not all the women pictured are actually Syrian — let alone refugees.
Like when Roanoke's mayor positively cited WWII-era Japanese internment camps…
With federal and state government representatives openly challenging and defying Obama's Syrian refugee resettlement program, the mayor of Roanoke, Virginia entered a world of viral hurt on Wednesday. That's because David Bowers positively cited WWII-era Japanese internment camps in an official statement on the matter. Bowers has since apologized, saying that he "didn't expect his statement to go viral." The mayor also ruffled the feathers of Japanese-American actor and activist George Takei, who invited Bowers to attend a showing of his thematically relevant musical Allegiance in Broadway.
Like when Hillary Clinton's campaign threatened a comedy club…
The owner of the Laugh Factory, a prominent comedy club in Chicago, alleged that Hillary Clinton's presidential campaign threatened him after he released a video of comedians mocking the candidate. Jamie Masada wouldn't name names, but he claimed "he was contacted by a prominent member of the Clinton campaign and asked to take the video down" shortly after it was posted. "They threatened me," he said. "I have received complaints before but never a call like this, threatening to put me out of business if I don't cut the video."
Like when a Virginia man said "every Muslim is a terrorist"…
An Islamic Center outside of Fredericksburg, VA has grown too small for the bustling Muslim community in the area, so Samer Shalaby hosted an informational meeting about a new mosque. The meeting was open to the public, which was Shalaby's biggest mistake, as several residents in Spotsylvania County weren't happy with the idea of a new mosque being built.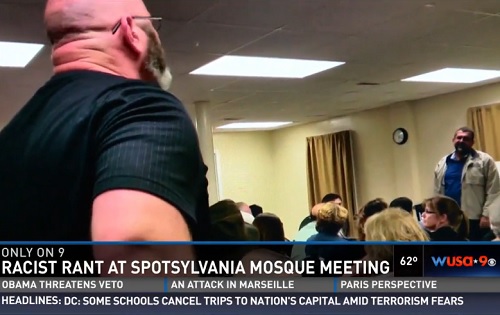 "I'll do everything in my power to make sure that does not happen. We don't want it because you are terrorists. Every one of you are terrorists. I don't care what you say," said one man. "You can smile at me. You can say whatever you want, but every Muslim is a terrorist."
Like when a TV host thought Star Wars art was al-Qaeda's logo…
The logo for the Rebel Alliance in the Star Wars films was confused with al-Qaeda's logo in a newscast about the terrorist organization and ISIS following the attacks in Paris.
To make matters worse, the logo used wasn't taken directly from Star Wars. It was actually the image used by a record label's Facebook page. The name of the label? Alqaeda'Inc.
Check back each Friday afternoon for the Mediaite staff's full run down of the week's best in bizarre.
[Image via screengrabs]
— —
>> Follow Andrew Husband (@AndrewHusband) on Twitter
Have a tip we should know? tips@mediaite.com