Weiner Comm Director Goes On Epic Tirade Against Former Intern: 'F*cking Slutbag,' 'F*ck You, You Little C*nt'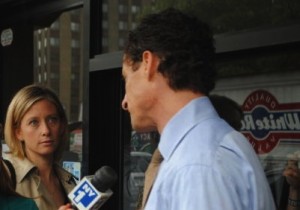 Anthony Weiner's communications director went on one of the most unhinged tirades in recent political history against a former intern for the Weiner campaign who wrote a revealing piece for the New York Daily News. Barbara Morgan responded to Talking Points Memo's request for comment by going completely off the rails and into the gutter, dropping almost literally every single profanity possible in this situation.


Morgan bashed "stupid fucking interns" like Olivia Nuzzi, adding the following.
"Fucking slutbag. Nice fucking glamour shot on the cover of the Daily News. Man, see if you ever get a job in this town again," said Morgan.

According to Morgan, Nuzzi stopped interning for the campaign "like four weeks ago." Nuzzi's story on NSFWCORP described her as having spent "four weeks" as a Weiner intern. When asked whether the claims in Nuzzi's stories were true, Morgan suggested many of them were "bullshit."
And those are the nice quotes.
Nuzzi's Daily News piece revealed a lot from the campaign, including how many of the interns were hoping to get close to Huma Abedin, who could push Hillary Clinton to run for president. She claimed that Weiner called a bunch of female interns "Monica," and said one other staffer who quit was paid "less than a third of what he was promised."
Morgan was clearly not happy about any of this. She relentlessly tore into Nuzzi's work ethic and behavior and called her a "twat," accusing her of basically sucking at her job.
"She sucked. She like wasn't good at setting up events. She was clearly there because she wanted to be seen. Like it was, like, terrible and I had to like – she would like, she would just not show up for work," said Morgan. "For the four weeks she worked there — she didn't work weekends, so twenty days total. Of those twenty days, she missed probably five because she would just like not show up and not tell me she wasn't going to be there. So, yeah, so there's that."
Morgan then had this to say about Nuzzi questioning her credentials.
"And then like she had the fucking balls to like trash me in the paper. And be like, 'His communications director was last the press secretary of the Department of Education in New Jersey," Morgan said. "You know what? Fuck you, you little cunt. I'm not joking, I am going to sue her."
Punchline number one: check out Nuzzi's new Twitter bio.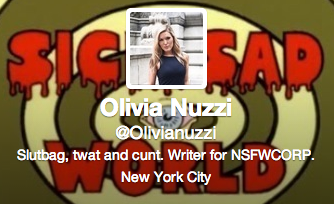 Punchline number two: this tweet from New York Observer's Jill Colvin:
Well, at least penis pictures are not the only crazy thing about this campaign anymore.
UPDATE: Morgan provided this statement to BuzzFeed apologizing for losing her cool.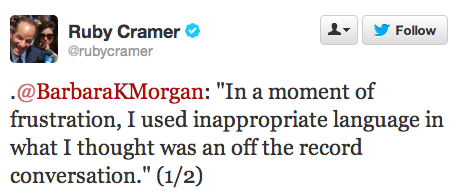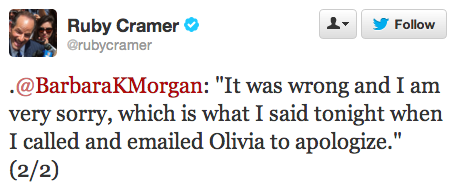 UPDATE @ 10:18 P.M.: "Slutbag" is blowing up on Twitter, by the way. Here's a choice sampling of what people are saying.


—–
(h/t) TPM
—-
Follow Josh Feldman on Twitter: @feldmaniac
Have a tip we should know? tips@mediaite.com
Josh Feldman - Senior Editor