Weiner Dishes on Weiner: 'When I Agreed to Do the Movie, I Anticipated a Different Outcome'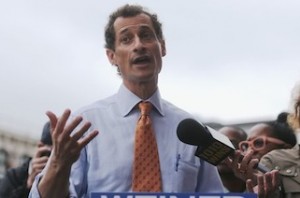 The one thing that strikes you over and over again when you watch the critically-acclaimed documentary Weiner is this: how the hell did they get all this on camera?
It's truly an exercise of faith that Anthony Weiner, the former fiery New York congressman who fell from grace due to a sexting scandal, and his wife Huma Abedin allowed for documentarians to chronicle every piece of their lives during Weiner's run for Mayor in 2013. The time period covered in the film could not have worked out better (or worse, depending on your perspective): it picks up after the initial scandal and Weiner's early exit from Congress, but before a new wave of allegations emerged involving Sydney Leathers and his infamous pen name Carlos Danger. Weiner is there for every hilarious, gut-wrenching, and jaw-dropping development, including — my personal favorite — a mad dash through a McDonald's on the night of the Mayoral race to avoid cameras and Leathers herself.
And in an interview out this morning with the New York Times Magazine, the former New York hero dishes on the documentary that propelled him back into the spotlight this year. While he denies that he and his wife Abedin — who is the chief aide to Hillary Clinton — have seen the film, he admits, "Obviously, when I agreed to do the movie, I anticipated a different outcome."
Most interestingly perhaps is the fact that Weiner refuses to admit that the "activities that got [him] in trouble" are a thing of the past:
I'm not going to go down the path of talking about any of that. But I will say this: There's no doubt that the Trump phenomenon has led a lot of people to say to me, "Boy, compared to inviting the Russians to come hack someone's email, your thing seems almost quaint."
To be sure, the film sheds a spotlight on many of the endearing qualities of the former Congressman that are often forgotten or lost in the shuffle of having a funny last name (his own admission) during a scandal that started by Tweeting out a photo of his junk. Weiner shows that the man himself was an absolute champion of his constituents in the outerboroughs of the city, a demographic that largely didn't seem to care "about the personal shit," (as one woman puts it in the film) since he fought vociferously for what mattered: the rights and livelihoods of middle-class New Yorkers.
Though as we've seen in some of Weiner's public appearances as of late, the film effectively captures Weiner's complete inability to keep his mouth shut when it matters most. His never-ending I-don't-quit attitude works him into hot water in one hilarious scene in a bakery just days before election day when he engages in a shouting match with a detractor who tells him he's an scumbag:
"It takes one to know one, jackass!"
The 51-year-old Weiner reveals to the Times Magazine that he is largely staying out of politics, offering his insights occasionally in brief advisory roles. And there seems to be one thing stopping him from getting back into the process more fully: "Would you really want the distraction of having me as your campaign manager?" he asks.
Read the interview with The New York Times Magazine here.
Have a tip we should know? tips@mediaite.com