'We'll See How Much Her Life Matters Soon': Kansas Cop Fired for Threatening Black Woman's Daughter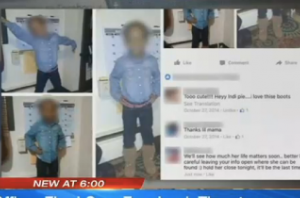 A police officer in Kansas was fired over the weekend after authorities took note of how he penned a very ominous message to an African-American woman and her children on social media.
Lanaydra Williams is a resident of Dallas, TX, and she posted photos of her young children to her Facebook page back in 2014. Last week, an online stranger wrote her a message that Williams found thoroughly alarming:
"We'll see how much her life matters soon. Better be careful leaving your info open where she can be found :) Hold her close tonight it'll be the last time."
The message was said by KCTV 5 to have come hours after five police officers were killed and 7 others were wounded when a gunman attacked law enforcement personnel while they were trying to supervise a #BlackLivesMatter demonstration in Dallas.
Williams brought the post to the attention of Overland Park Police Chief Francis Donchez Jr., who confirmed that the post came from one of his officers. Donchez told Kansas City Star that the officer was fired, and that his department is launching an investigation into the incident.
"I want to publicly apologize to those affected by our officer's personal actions," said Donchez. "His actions do not represent the Overland Park Police Department in any way and no one should be subjected to any type of discrimination or this kind of behavior."
Even before the Dallas Shooting last week, a climate of racial tension has settled over the nation due to the perceived injustices in the deaths of Alton Sterling and Philando Castile.
[Image via screengrab]
— —
>> Follow Ken Meyer (@KenMeyer91) on Twitter
Have a tip we should know? tips@mediaite.com