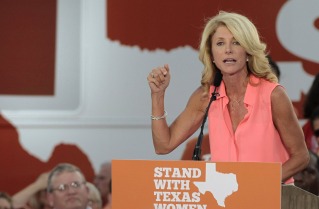 In the first public poll taken of the Texan electorate since this month's primary, Democratic gubernatorial nominee Wendy Davis narrowed the gap between herself and GOP nominee Greg Abbott to 7.5 points.*
Ted Nugent may have had something to do with it. 38.5% of respondents believed Nugent's "sub-human mongrel" comments about President Barack Obama, made shortly before Abbott invited him on the campaign trail, hurt the Republican candidate. 42% said they had no effect, while only 13% said they helped.
Abbott had been riding high in the polls prior to Nugentgate; as of late February, he had increased his lead to 11 points, while Davis was suffering from a multitude of campaign missteps. All this raises again the question of why GOP candidates invite Ted Nugent to campaign with them in the first place; as predicted back then, the Nugent scandal appears to have given the Davis campaign a breather, with no discernible payoff for Abbott.
Some other notable findings: Davis' favorability is still slightly underwater, but a plurality believes the details about her personal history, which became the subject of dispute after Wayne Slater's Dallas Morning News article called aspects of her life story into question. However, 42% still say they are unsure as to whether to believe Davis' story, meaning she has a lot of ground to gain (or lose) by November. Abbott's favorability ratings are much higher, and a vast majority believes he will win the election.
He almost certainly will. Davis is not going to turn Texas purple, at least not this election. But she does have a chance to place competitively as a Democrat, and in doing so prime a revitalizing Texas Democratic Party to take advantage of approaching demographic changes in the state. In other words, one hopes the Nuge enjoyed his Texas trip, because it's doubtful any GOP candidate will ever invite him back.
* As with all polls, this one has a caveat, namely that it was sponsored by the Texas Research Institute, an outfit that works with organizations, like Progress TX, promoting "progressive causes." The sampling breakdown was 43/35 Republican/Democrat, with 21% independents, while Texas went for Mitt Romney 57-41 in 2012 and for (still) Governor Rick Perry 55-42 in 2010. Given that 2014 by all accounts looks to be a GOP-friendly year, expect a lot of those self-proclaimed indies in the poll to break Republican on election day.
[h/t Texas Research Institute]
——
>> Follow Evan McMurry (@evanmcmurry) on Twitter
Have a tip we should know? tips@mediaite.com