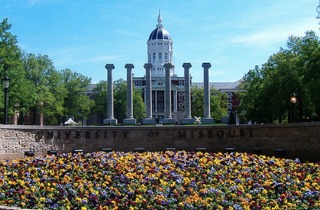 Over the weekend, several conservative news outlets reported that Mizzou students were posting angry, insensitive tweets about the Paris attacks. According to the Missourian, however, no evidences exists to suggest that the accounts were being used by anyone affiliated with the university.
The Right Scoop, The Daily Caller, Breitbart News and The Washington Times covered the story on the Friday of and the Saturday after the terrorist attacks in France. All four pointed to similar tweets from similar accounts, many of which suggested the events in Paris weren't as important as the ongoing racial tensions perceived on U.S. college campuses. The general consensus? That Mizzou protesters were angrily tweeting out against the media's apparent racial bias on covering tragedies.
Interesting how the news reports are covering the Paris terrorist attacks but said nothing about the terrorist attack at #Mizzou 😒☕️🐸

— Kyra (@_kyrahardy) November 14, 2015
According to the Missourian's Katherine Knott, however, there's no proof that these tweets and Twitter accounts are connected to students or protesters at the University of Missouri.
The university released a statement on Saturday condemning the attacks and the tweets, while noting that none of the accounts had discernible ties to Mizzou. Knott followed this up with an investigation of her own, which included reaching out to reporters and bloggers at the websites named. Breitbart's Milo Yiannopoulos said he reached out to the account via DM, and received responses from some.
"Several of the tweeters whose messages I quoted identified themselves via DM to me as Mizzou protesters," he told the paper.
Yet as Knott points out, "just because those account holders claimed they were from Mizzou doesn't mean they were."
Of the many accounts that had participated in the offensive tweeting, Knott focused on @_kyrahardy, @ilovethisnigga, @NeonElectricity and @RheaBans. The first two still exist, though except for the tweet above, most or all of the anti-Paris posts were deleted. @NeonElectricity was apparently shut down, and @RheaBans has been stripped of all of its content.
Tellinging, Knott reports that "none of the Twitter accounts cited have a track record of tweeting about Mizzou prior to this week." So no pattern of tweeting about the ongoing protests at Mizzou, or anywhere else in the U.S., existed before the Paris attacks.
Are these results conclusive? Not necessarily, but they do poke several holes in the hoopla the trollish tweets initially created, which was their ultimate goal.
[h/t Missourian]
[Image via screengrab]
— —
>> Follow Andrew Husband (@AndrewHusband) on Twitter
Have a tip we should know? tips@mediaite.com