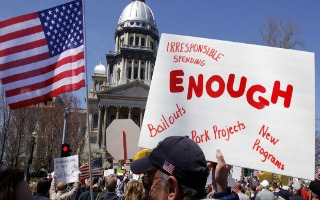 A study for the Combatting Terrorism Center, a think tank associated with the United States Military Academy at West Point, warns of the threat posed by rightwing extremists. It identifies the potential for violence in groups defined a "far-right," and provides a "[C]onceptual foundation for understanding different far-right groups and then presents the empirical analysis of violent incidents to identify those perpetrating attacks."

RELATED: Rachel Maddow: Right Wing Toys With Violence
"In the last few years, and especially since 2007, there has been a dramatic rise in the number of attacks and violent plots originating from individuals and groups who self-identify with the far-right of American politics," the report's executive summary reads. "These incidents cause many to wonder whether these are isolated attacks, an increasing trend, part of increasing societal violence, or attributable to some other condition."
The report warns of three categories of rightwing extremists that represent terroristic threats: "[T]he Racist/White Supremacy Movement, the Anti-Federalist Movement, and the Christian Fundamentalist Movement."
The report notes that it focuses only on those groups that have perpetrated violence and not political causes which are deemed extremist but have no violent incidents attributed to them.
The federal government has been wary of coordinated rightwing violence since early in President Barack Obama's first term. In April, 2009, the Department of Homeland Security authored an unclassified 9 page report entailed "Rightwing Extremism: Current Economic and Political Climate Fueling Resurgence in Radicalization and Recruitment."
"Homeland Security Office of Intelligence and Analysis defines 'rightwing extremism in the United States' as including not just racist or hate groups, but also groups that reject federal authority in favor of state or local authority," the report read.
They defined rightwing extremist groups as those composed of "groups and individuals that are dedicated to a single-issue, such as opposition to abortion or immigration."
> >Follow Noah Rothman (@Noah_C_Rothman) on Twitter
Have a tip we should know? tips@mediaite.com