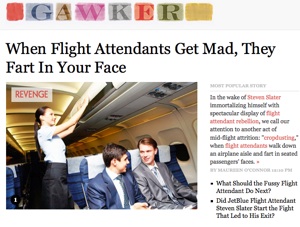 Back in February, Gawker Media owner Nick Denton surprised the New York digertati when he announced that he was acquiring CityFile, and replacing Editor-in-Chief Gabriel Snyder with CityFiles's founder Remy Stern, despite record traffic numbers under Snyder. Always the iconoclast, Denton seem to feel that there was a need for change at Gawker, and now we see Phase II of what some may call the re-engineering of the seminal media gossip blog: a rather dramatic re-design that appears to effectively change the definition of Gawker media properties from "blogs" to "sites." And yes, there is a difference.
As one can see in the screencap below, Gawker appears to be planning a dramatic shift from a traditional, single-stream and cascading blog layout, to one that is a more conventional "site" layout: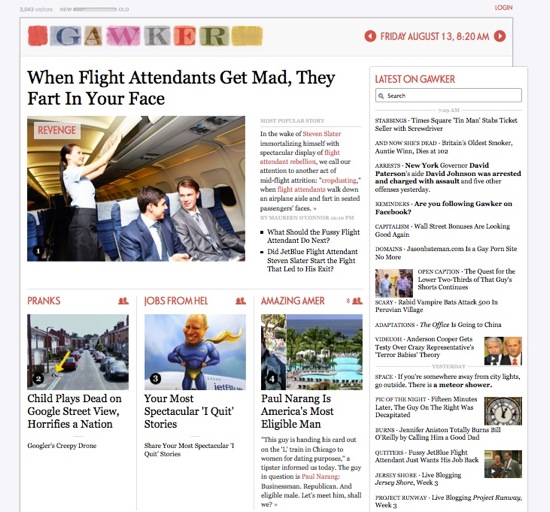 In the format above one can see clearly a more prioritized layout, which provides editors the chance to promote a "top story" as well as theoretically provide greater permanence to more popular stories, or those deemed to be of greater importance. The current Gawker layout is more limited in this regard as the vast majority of blog posts only appear chronologically.
Some background: When Gawker acquired CityFile, the stated goal was that Denton saw the need to develop (and own) some more permanent content, different from the ephemeral and somewhat disposable posts that come with their typical coverage (which in fairness, is quite similar in nature to much of which is produced by Mediaite.) Or as Business Insider's Joe Weisenthal wrote at the time:
While CityFile's readership isn't enormous, the site boasts a top-notch readership, and a very clever database of over 2144 NYC notables. It's the type of database we suspect Gawker will be able to get a lot of juice (SEO and otherwise) out of, with a lot of potential for expanding
So it appears that now that the redesign that has "leaked" it may be part of a larger integration of CityFile's personality-based content. The new beta version of the tag pages seem to fall more in line with the CityFile model and bring to mind HuffPost's "Big News" pages. Some have surmised that Gawker's larger strategy is to become a more mainstream and national player, which dovetails with Gawker's plans to hire a full-time media booker.
Most of the Gawker Media sites appear to have a beta version of their redesign up: Jalopnik, Gizmodo, Kotaku, Lifehacker, and Deadspin. Nothing yet is up for either Jezebel or Fleshbot.
Its worth noting that Denton has a time-honored tradition of sending out press releases disguised as "Internal Memoes" that many love to re-purpose in a fun and clandestine way. So there is a very good chance that this "beta" version of Gawker's redesign was very much meant to be leaked. Either way, its still very interesting to watch the transformation of an innovative network of sites – even it does appear that their new design reflects a rather traditional layout used by many.
Have a tip we should know? tips@mediaite.com