What if the British Somehow Captured the Power Grid and Had Their Way With It…
What would happen if a bunch of fancy-free media-types put their heads together and ranked the most influential movers and shakers in the media industry by relevance?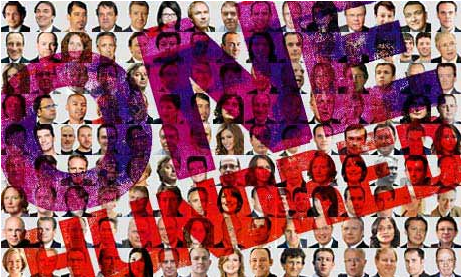 If you're lucky, you would get the Power Grid. But if you were British, you would get the Power Grid's dodgy cousin from across the pond — MediaGuardian 100, The Guardian's annual survey of the top 100 media professionals, released over the weekend. We're going to go ahead and say, ours is better and not just becuase we're too proud to put Miley Cyrus on our list. Does Miley really "run or influence" the media? (Actually maybe she does: see today's story about Miley's Elle cover).
For starters, The Guardian's rankings are determined by a group of  Panellists (not to be confused with panelists), based on "three criteria – their cultural, economic and political influence in the UK." All of that boils down to: basically there's no system. We have a feeling that tiddlywinks (or conkers) may be involved.
We're also not convinced that the Brits are really up to speed about how the Internet works. John Plunkett, The Guardian's Media Monkey, begins the MG 100 overview by underscoring the importance of digital media and then goes on to explain that Google's Larry Page and Sergey Brin are number one on this year's list a) because Google is a noun and a verb and b) because without Google none of us would have been able to find the MG 100. All of which boils down to a pretty reductive understanding of the way companies create value and news moves on the Internet.
If recent editions of the MediaGuardian 100 have been dominated by one word – digital – then this year's list is all about the impact of another D-word – downturn…
There was less debate, however, about who should be awarded the No 1 spot; Google's co-founders, Larry Page and Sergey Brin, top the MediaGuardian 100 for the second successive year. The pre-eminent force of the digital era, Google has gone from being an internet startup to a verb in little more than a decade.

The dominant force in the search engine and online advertising markets, Google has powered ahead while media companies all around have faltered. If you are reading this year's MediaGuardian 100 on the web, then how did you find it? Exactly.
Exactly what? We were reading a blog that linked to the list … but I guess we did spend the rest of the day Googling search terms, hoping to find news items that satisfy our appetite for news about the topics we love (?).
Further suspicions are raised by this line:
The chief executive of Twitter, Evan Williams, is one of this year's highest new entries on the back of the phenomenal rise of the instant messaging site, two places ahead of Mark Zuckerberg, the founder and chief executive of its social networking rival Facebook.
Once again, the MG 100 is either woefully innocent about today's Internet or painfully reductive. Sure Facebook and Twitter are both in the social-networking game, but we wonder how exactly Twitter and Facebook might be rivals. Users come to both sites with different purposes, and Twitter is not stealing Ad dollars from Facebook. MySpace and Facebook — that's what we'd call a rivalry.
Forget the chatter surrounding the list, the rankings themselves are a bit strange as well. Arianna Huffington (#3 on among Newspaper/Online Editors) is as low as 42 on their list. Meanwhile the top 20 is littered with Murdochs, who, by the way, throw the most splendid birthday parties:
For an indicator of Elisabeth Murdoch's influence, look no further than the guest list for her 40th birthday, which included Tony Blair, David Cameron, George Osborne, Rebekah Brooks (nee Wade), James Harding, Will Lewis, Simon Kelner, Peter Fincham, Alan Yentob … well, you get the idea. Gordon Brown was unable to make it because he had an engagement with the Queen.
Using party lists to rank the media never even crossed our mind.
All of this begs the question: What metrics did The Guardian's panel use to measure influence? And how you can you appraise the respective influences of the players drawn from such an unruly, nondescript cross-section of the media industry (everyone from Miley Cyrus to Rupert Murdoch to Simon Cowell).
Lucky for us, the Power Grid includes both objective metrics and simple categories.
We could go on with our beef (and The Guardian's readers have), but after all the MG 100 is meant to be as of "much a starting point for debate as it is intended to be any sort of definitive list." Cheers to that.
Have a tip we should know? tips@mediaite.com