The Washington Post published an article Friday about a CIA intelligence report that talks about the Russian hack in the 2016 presidential campaign and talked about Obama planting "cyber weapons," which brought back the question, what is a cyber bomb?
The report talked about Russian President Vladimir Putin's "direct involvement in a cyber campaign to disrupt and discredit the U.S. presidential race" and continued later Barack Obama also approved a previously undisclosed covert measure that authorized planting cyber weapons in Russia's infrastructure."
However, the Post was vague in it's description of "cyber weapons," saying they were "the digital equivalent of bombs that could be detonated if the United States found itself in an escalating exchange with Moscow." This led to a confused reaction online.
This is not the first time we've heard this bomb dropped. Last year, US Deputy Defense Secretary Robert Work said at the Pentagon's Cyber Command, "We are dropping cyberbombs," Work said. "We have never done that before."
So what are these "bombs" we're apparently dropping? Well a cyber bomb can be a number of cyber attacks that is hardware or software used against online threats.
First it can be a hack that can disrupt cellphone networks, change computers controlling nuclear centrifuges or disrupt electric power generators.
Secondly, it could be electromagnetic energy that disrupts an adversary's wireless or computer devices or change/create false images on an enemy's screens, like when Israel compromised Syria's air defense systems in 2007.
Lastly, it can also mean an Electromagnetic pulse, or EMP, which wipes out any electronic circuit in it's designated area.
So while the Post might just call it "digital bombs," they aren't too far off when talking about the broad cyber attacks that can be classified at "cyberbombs."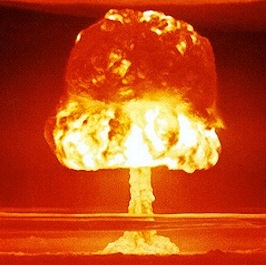 Have a tip we should know? tips@mediaite.com