What Reporters Who Attended Eric Holder's 'Off The Record' Meeting Are Saying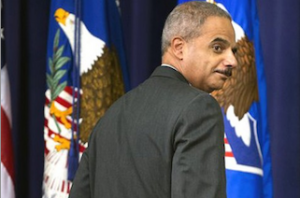 After he majority of mainstream media outlets decided to boycott Attorney General Eric Holder's "off the record" meeting to discuss the Justice Department's subpoena guidelines, it didn't appear that much info would emerge from the closed-door session. But apparently, Holder and Deputy Attorney General James Cole adjusted the rules to some degree during the meeting, allowing the participants to speak about the proceedings in a general matter, without the use of any recording devices or direct quotes.
Below is what the five journalists and bureau chiefs who attended Thursday evening's meeting have been saying about it today.
POLITICO editor-in-chief John Harris spoke to colleague Dylan Byers:
"[Holder and Cole] said they are reaching out to editors and counsels for news organizations about how to strike what they called 'the balance' between protecting the flow of information and journalists' ability to do our jobs and what they described as national security damage… I didn't come away with a precise understanding of how those guidelines might change, and I didn't have impression they were settled in their own mind."
Washington Post executive editor Martin Baron spoke to CNN:
"We expressed our concerns that reporters felt some fear for doing their jobs, that they were concerned about using their e-mail, using their office telephone and that we need to have the freedom to do their job."
Baron also spoke to colleague Sari Horwitz:
"[Holder and aides] completely endorsed the president's statement that reporters should not be at legal risk for doing their job. They acknowledged the need for changes in their own guidelines and the need to have a more rigorous internal review."
The New York Daily News Washington bureau chief Jim Warren spoke to CNN and also wrote about the meeting for his paper:
"Who knows what's going to happen if they in fact are going to practice what they seem to preach and try to change some laws that we feel are very relevant. But I think it's sort of an opening gambit, an opening discussion."
Wall Street Journal Washington bureau chief Gerald Seib spoke to Reuters:
"There was a commitment to change the department's guidelines for handling cases such as these and a renewed commitment to support a federal shield law for journalists… There were plenty of indications they are unhappy and regretful that it's gotten to this point."
The New Yorker staff writer Jane Mayer spoke to POLITICO's Byers:
"I think it was overall a constructive conversation, but whether it results in real change remains to be seen. I felt all the journalists there spoke up well about the issues, and pulled no punches."
Another meeting is scheduled for Friday geared towards broadcast news outlets, though the only major TV network that indicated it would attend is ABC News.
—
>> Follow Matt Wilstein (@TheMattWilstein) on Twitter
Have a tip we should know? tips@mediaite.com