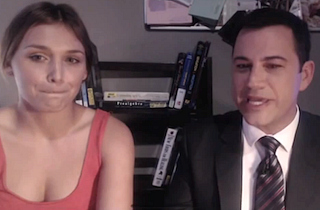 On Tuesday, late night host Jimmy Kimmel revealed that he'd produced the video "Worst Twerk Fail EVER," which went viral last week. Kimmel surreptitiously planted the clip two months ago on YouTube and waited for it to bloom, which it did when Miley Cyrus' VMA performance made twerking our August obsession.
Given the video's 9 million views, with no suspicion about Kimmel's involvement until he stepped forward, this little prank went about as well as Kimmel could have thought.
So…what?
"Kimmel wins the internet" was roundly the reaction on Twitter, but I'm struggling to figure out exactly what this "winning" means. That Kimmel successfully pulled off the hoax is evidence of nothing more than the fact that he has substantial network resources. A heavily-funded dude in show business producing a convincing 30 second video is hardly an accomplishment—nor is a guy whose career is devoted to artifice invisibly appropriating an open-sourced medium. Is "winning the internet" now just code for "rich guy fools people"?
If there was any subtext to this prank besides "Suck it, public," it seemed to be a ploy to get people to stop focusing on frivolous pop culture fads like twerking and pay more attention to what *really matters.* That at least is the most generous motive I can discern from stuntwoman/twerkstress Daphne Avalon's hashtag #endtwerkingforever, and Kimmel's comment about the number of networks covering the video: "Good thing nothing important was going on in Syria."
But last night, Avalon, enjoying her well-earned success (keeping up the gag as friends and ex-boyfriends called her about her embarrassing twerk fail couldn't have been fun), appeared on Entertainment Tonight. Number of twerking references: 7. Number of Miley Cyrus references: 2. Number of Syria references: 0.
So…what?
I'm with Slate's Daniel Enger, who argued persuasively that hoaxes like this dissolve our ability to establish truth when it matters. On the same site, Emma Roller cast suspicion over this week's viral sensation, in which a man wakes up from surgery with partial amnesia and sees his wife as if for the first time. It's getting shared and shared, often with earnest commentary appended about the fleetingness of life and so forth, but there's heavy circumstantial evidence that the video is a fake—which means we could falling for the next hoax even as Kimmel reveals the last one.
The sum of all this could be a healthy skepticism toward internet memes—we can dream! But it's much more likely that many will continue to RT unverified, contextless videos that turn out to be phony, while others will refuse to believe anything, a nervous incredulity that ends in yelling "false flag" in response to, say, the Boston Marathon bombing. One group will be suckers for guys like Kimmel, the other will become ridiculous in trying to avoid being suckers for guys like Kimmel, and well-funded guys like Kimmel will continue to "win the internet."
So…what?
Watch Avalon's ET appearance below, via CBS:
Watch Kimmel's reveal:
[Image via screengrab]
——
>> Follow Evan McMurry (@evanmcmurry) on Twitter
Have a tip we should know? tips@mediaite.com