Poll: 69% of Americans Viewed Obama's Syria Speech Positively, 61% Favor His Approach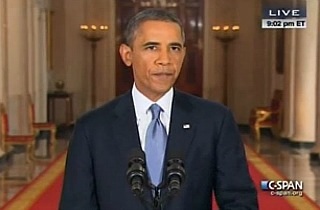 President Obama has been fighting an uphill battle to win support for an authorization to strike Syria in retaliation for an Aug. 21 Sarin gas attack, but a CNN/ORC poll taken following Tuesday night's East Room address shows good news for the President's Syria policy. In that speech, Obama made the case for the necessity of a limited strike, but also for allowing time to let a burgeoning diplomatic solution play out. CNN's poll found that 61% of Americans favor "the approach to Syria that Barack Obama described in his speech."
Additionally, 69% of respondents said they felt "very positive" or "somewhat positive" about the speech. If you drill down on the poll results, though, it appears that approval for the President's approach relies heavily on the possible success of the diplomatic solution that suddenly became possible on Monday. From CNN:
The poll indicates that nearly two-thirds of those who watched the speech think that the situation in Syria is likely to be resolved through diplomatic efforts, with 35% disagreeing.

But Obama said that he's ordered the U.S. military "to maintain their current posture to keep the pressure on Assad, and to be in a position to respond if diplomacy fails."

According to the poll, those who watched the president were divided on whether Obama made a convincing case in his speech for U.S. military action in Syria, with 47% saying he did and 50% saying he didn't.
Respondents to CNN's poll came away from the President's speech marginally more confident in President Obama's "leadership on military and international issues," with 32% saying they were "more confident," versus 16% "less confident," and the majority, 52%, unchanged in their opinion.
Time will tell if the combination of the President's address, and the added wrinkle of a political solution on the table, will change public opinion that has been against the President's policies so far, and which has made congressional support for authorizing a strike politically untenable.
Have a tip we should know? tips@mediaite.com