When Fidel Castro Says Communism 'Doesn't Work,' He Means 'The Opposite' Of That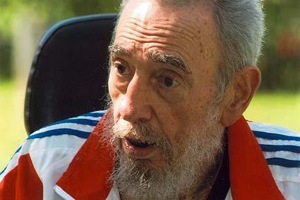 Cuban ex-tyrant and current mascot Fidel Castro has been duped by the imperialist media! Castro trusted The Atlantic's Jeffrey Goldberg enough to grant him an interview, and instead of quoting verbatim his every six-hour harangue on the virtues of Marxism, Goldberg found fascinating a nugget of regret the Comandante let drop: "the Cuban model doesn't even work for us anymore." This means "exactly the opposite" of what it says!
Sometimes the truth is more Orwellian than fiction. Castro has now come out against the interview, but not too aggressively. Stating that Goldberg's interpretation of his statement was "amusing," he commented during an event for his new book, Strategic Victory:
Castro said he made the statement "without anger or worry. Now I'm amused to see how (the Atlantic reporter) interpreted it literally" in consultation with a CFR expert.

My answer, Castro said, "meant exactly the opposite" of what the reporter wrote, Castro said, speaking at an event presenting the second volume of his autobiography.

Castro said he was clear about Goldberg's intention when he asked if the Cuban model was still worth exporting: "It's obvious that implicit in the question was the theory that Cuba was exporting the revolution."
Note: for the average Cuban, a statement like "the Cuban model doesn't work for us anymore" is a crime against the state ("subversion" or, if the arresting soldier is in a crabby mood, "treason") and can cost up to twenty years in prison and/or a meeting with your friendly neighborhood firing squad.
Anyway, there are many, many reasons why that interview was acutely painful for the Cuban exile community to read (and the sadistic dolphin park story is the least of them). Seems like it was almost as painful for Fidel, who decades ago ran literal circles around sympathetic American journalists like the New York Times' Herbert Matthews, to get a dose of his own medicine. Goldberg has already fired back, stating that he copied the statement verbatim and did not remove any relevant context. Needless to say he's probably not going to be invited back to Havana anytime soon.
[h/t Gawker, photo via Telegraph]

Have a tip we should know? tips@mediaite.com