Where Are Paula Deen's Fans? Celebrity Chef's Firing Prompts Outrage, But No Action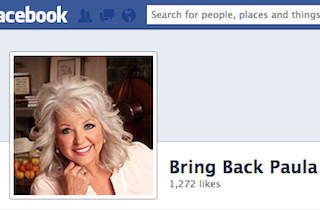 Paula Deen was very unceremoniously axed from the Food Network on Friday, after her history of racist language and mistreatment of employees was revealed through a deposition earlier in the week, resulting a series of uncomfortable YouTube videos yesterday. But while her firing prompted an outpouring of support for the embattled southern chef and outrage at the network, so far it has not translated into action.
Bring Back Paula Deen, a Facebook page dedicated to the chef's restoration on the Food Network, at this writing had only 1,200 likes, a tiny slice of Deen's wide fan base.
RELATED: Paula Deen's Sin Wasn't That She 'Said A Bad Word'
Meanwhile, a petition has sprung up on the Care 2 Petition Site, stating:
Recently our dear Paula admited to saying a racial slurr to a friend on the subject of segregation, and first thing Food Network did was drop Miss Deen's Television show Paula's Best Dishes. I know it was wrong of Miss Deen to say somthing like that but I think we are all guilty of some form of racism and everybody needs some form of forgiveness sometime in life. So I would like to know does America agree with me? Do you agree with me? Like if you agree that the media and Food Network should just drop this and find somthing else to worry about and give Paula her job back.
The petition has only 56 of the desired 10,000 signatures.
This lack of concerted effort on Deen's behalf suggests she might be best quietly exiting stage right, a sentiment with which Deen's (thankfully not filmed) statement on Friday seemed in accord:
"I have had the pleasure of being allowed into so many homes across the country and meeting people who have shared with me the most touching and personal stories. This would not have been possible without the Food Network. Thank you again. Love and best dishes to all of ya'll."
—
>> Follow Evan McMurry (@evanmcmurry) on Twitter
Have a tip we should know? tips@mediaite.com