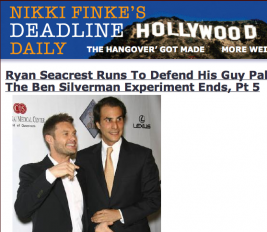 So after news broke this morning that Ben Silverman was leaving NBCU, more than one person in the office wondered a) how come Nikki Finke hadn't been the one to break it, and b) what would Nikke Finke blog about from now on. Nikke Finke has subsequently solved both mysteries for us in what could be referred to as The Finke-Silverman Experiment Ends, A Play in 5 Acts.
Act 1
Ben Silverman and everyone else lied to Finke. EVERYONE. Also, she was asleep this morning when the news broke.
Act 2
"Here's The Email This Putz Sent Around." Actually, it is totally a putzy email: "Its go time brother!!!!!!! Let's rock it out!!!!!"
Act 3
Finke discusses who got screwed the most from the subsequent shuffling. Finke says it was Marc Graboff.
Act 4
The backstory!
First mea culpa. I was fast asleep when the announcement that Ben Silverman, the gift that kept on giving to me for all his NBCU screw-ups, was finally letting boss Jeff Zucker off the hook for a hiring decision that will go down in the annals of television entertainment as one of the worst….I knew back on June 24th that Ben was engaged in a desperate search for another job or financial backing to leave NBC so he could make it look like he'd jumped before he was pushed. I also knew Ben was telling Hollywood between July 21-23 that he'd be leaving NBCU "in 2 or 3 weeks"….tt wasn't until late Friday that Barry Diller's name was whispered to me as Silverman's savior. And each and every time I contacted NBCU, executives there lied to me. Jeff Zucker lied to me. Ben Silverman lied to me. They had their PR lie to me. (NBCU's claim now is that the deal came together "quicker than expected" and "only this past weekend", and then Silverman, IAC, and NBCU "scrambled to get this together" before the market opened today.)
Read about all the shady dealings here.
Part 5
Tying up loose ends:
Isn't it amusing how Jeff Zucker couldn't find one positive specific to say about Ben Silverman in the official NBCU news release this morning beyond "Ben brought us tremendous new thinking in this changing media age." Because Silverman leaves behind a record of abject failure.
This is where the story left off as of this posting. As to what Finke will be blogging about for the foreseeable future? Let's just say, Silverman may be leaving NBCU but one suspects he won't be out of Finke's site for a while to come.
Have a tip we should know? tips@mediaite.com