Which Americans Support Surveillance? Depends On Who's In The White House, Poll Says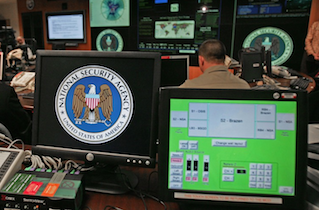 Majority of Americans support NSA phone tracking, according to a new Pew poll — but are wary of internet monitoring. While opinions have "changed little" since the 2006 ABC News/Washington Post poll, the Pew findings noted a partisan shift in support when it came to Democrats' and Republicans' views on the matter under Presidents George W. Bush and Obama.
Fifty-six percent of Americans said tracking phone records is acceptable, the poll said, with 41 percent disagreeing. Additionally, 62 percent said "it is more important for the federal government to investigate possible terrorist threats, even if that intrudes on personal privacy."
While the surveillance programs under Bush and Obama differ, "overall public reactions to both incidents are similar," Pew noted. "However, Republicans and Democrats have had very different views of the two operations."
Today, 52 percent of Republicans said tracking phone records via secret court orders is acceptable, compared to 75 percent in January 2006 who approved of investigating phone calls and emails without court approval.
For Democrats, 64 percent said they support phone tracking (versus 34 percent who did not). In January 2006, 61 percent to 36 percent said "it was unacceptable for the NSA to scrutinize phone calls and emails of suspected terrorists."
Americans overall are less approving when it comes to internet monitoring. Forty-five percent said it's acceptable to "monitor everyone's email and other online activities if officials say this might prevent future terrorist attacks" — while 52 percent disagreed.
The New York Times' Juliet Lapidos posited some sources of the partisan shift — including the issue of checks and balances and time period following 9/11. Also:
"Democrats may feel that if the Obama administration has decided to continue a Bush-era program, that must mean it's really necessary. That's not hypocrisy, exactly, more like a matter of trust/mistrust in leadership."
The full Pew findings are here.
Have a tip we should know? tips@mediaite.com