When you examine the "two-way street" of Twitter, as New York Magazine's Dan Amira has done with an in-depth feature for the Daily Intelligencer blog, you can discover some interesting things about who has the most influence over the U.S. Congress. With 97% of Congress officially on Twitter, Amira and his team looked at who members of congress are most likely to follow.
The most intriguing results for our purposes come in the section titled "Most Following Journalists/Politicians." The full results of that survey are below, via NYMag: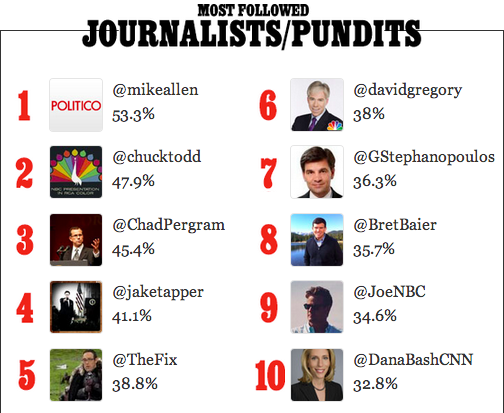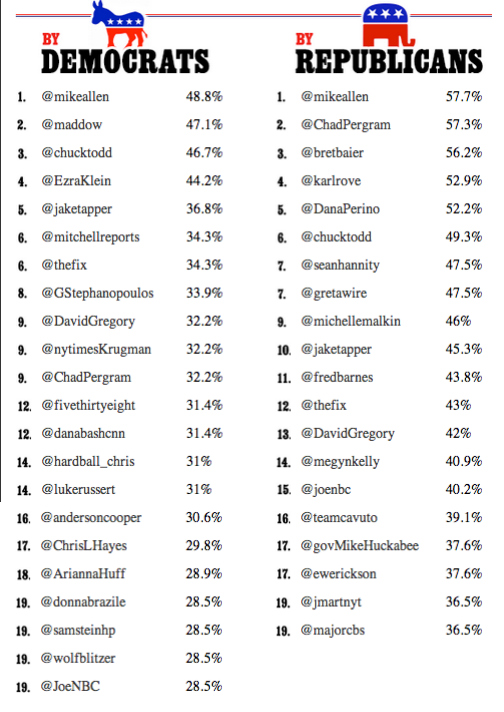 POLITICO's Mike Allen takes the top prize overall, as well as for both Democrats and Republicans. He's the only media figure followed by more than 50% Congress as a whole. MSNBC's Rachel Maddow has the #2 spot for Democrats with 47.1% while Fox News' Congressional correspondent Chad Pergram is #2 for Republicans with 57.3%.
Unsurprisingly, MSNBC pundits, including Andrea Mitchell, and Chris Matthews and Chris Hayes dominate the Democrats' list, while Fox figures like Bret Baier, Dana Perino and Sean Hannity rank high for Republicans.
Some notable figures who show up prominently on both lists are NBC News' Chuck Todd, CNN's Jake Tapper and the Washington Post's Chris Cillizza (@TheFix). And despite his perpetual "RINO" label, more Republicans than Democrats follow Joe Scarborough.
In addition to the media diets of Congress members, New York Magazine's survey also reveals which members of Congress are most popular in the world of Twitter. It turns out our nation's lawmakers are very unlikely to follow members of the opposite party, with Rep. Nancy Pelosi (D-CA) ranking #1 among Democrats and House Speaker John Boehner (R-OH) #1 with Republicans.
Pelosi also has the most total followers on the Democratic side with 374,967 (at the time the article was written) while Sen. John McCain (R-AZ) dwarfs that number for Republicans with 1,818,400. And which poor members of Congress have the least number of Twitter followers? Chances are you haven't heard of Rep. Joyce Beatty (D-OH) with just 199 and Rep. Rodney Frelinghuysen (R-NJ) with 288.
[h/t NYMag]
[photo via screengrab]
—
>> Follow Matt Wilstein (@TheMattWilstein) on Twitter
Have a tip we should know? [email protected]
---